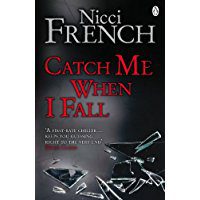 Brutal opinion: I HATED the first third of this book. The main character Holly seemed to have no redeeming qualities, her actions were often cruel and I seriously considered giving up on the book entirely.
Holly's descent into madness and paranoia was powerfully written and the confusion of the first person narrative perfectly illustrated this.
Quite simply, the book improved and switched to her friend Meg's viewpoint. I started to guess at the final plot twist and thoroughly enjoyed the rest of the book.
So if you read this bear with it and don't be put off. Maybe my utter dislike of the character and her behaviour is a tribute to the quality of the writing as it evoked such a strong reaction. I've read several Nicci French books in the past with varying reactions (some I have adored and others not) and I watch them when they are adapted for television.
[amazon_link asins='0141034181,B0051UPKLI,0141034173,0141034122,1405920637′ template='ProductCarousel' store='tiredmummyblog-21′ marketplace='UK' link_id='51b2148f-1145-11e7-a95a-c1185af4e870′]