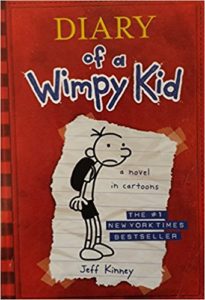 Meet Greg Heffley and his crazy yet normal world. The world of children 🙂
Parts of this were hilarious but most of it was a subtle humour that my children didn't really understand. The bits that they laughed over were seriously funny though and I was worried about wee accidents (them, not me, cheeky!)
We are now on our third book of the series and it is a joy to read them. Some catchphrases have made their way into our life (zoo wee mama!) and Matthew has started trying to draw his own cartoons. The only problem I have is that it is based in America so I need to explain some things to the kids which increases the amount of time it takes to get them to bed!
There are film versions out but we haven't watched them yet. I am curious how it worked on the big screen as the cartoons are such a vital component of the books. As you may know, Matthew isn't too good with films as he gets worried when characters get told off or are in trouble so I may watch this film first to check it out.
I would say that these books could easily be read by a fluent 7 year old but some of the language and concepts may need explanation.
[amazon_link asins='B00BC0PEBW,9526528743′ template='ProductCarousel' store='tiredmummyblog-21′ marketplace='UK' link_id='02cb5aaf-655b-11e7-9eee-8715fad72e8a']