I didn't know what to expect when I began this book. The cover gives little away!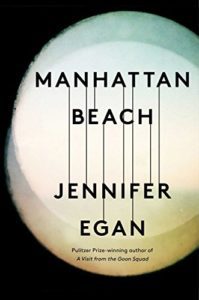 The plot surrounds the Kerrigan family in the 1930s and 40s as they negotiate the troubles of the aftermath of the Depression, gangster life and the Second World War. It is also very personal as the family struggle with secrets and the uncomfortable reality of caring for a child with disabilities 80 years ago.
I found myself completely captivated by this book. I loved Anna's triumph in the dockyard as she beat gender stereotypes in order to dive. The relationship between Anna and Dexter was so complicated and passionate that I wanted them to be together whilst knowing the relationship was doomed. The narrative strand off Eddie's experience in the navy was both vivid and terrible.
I felt that the ending was slightly rushed and wasn't the conclusion that the book deserved. I wanted to know more of the reconciliation and the life that Anna and Eddie had created for themselves.
Overall this book was very enjoyable and well researched with plenty of rich historical detail mingled with the human narratives that made me care for the characters.
4 out of 5!
I received this book through my Net Galley membership
[amazon_link asins='B06XDG7YFC,1780331223,0349120447,B008ET1R42,1780330995,1780330960,1780331215′ template='ProductCarousel' store='tiredmummyblog-21′ marketplace='UK' link_id='73f40d74-5390-11e8-8593-e1fa8c628f87′]