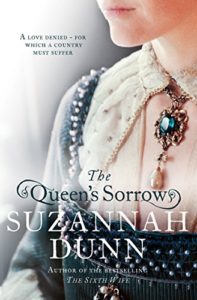 What a swizz 🙁
The book sounded fab from the blurb on the back, the true story of Mary Tudor's desperate attempt to give the country a child and keep her husband. But it wasn't. It was page after page of a Spaniard wanting to go home, on and on and on. The Queen appeared in maybe 10% of the book and to be honest it was implausible. There is no way a man would have been allowed in to her confinement chamber and that really grated with the historian in me especially as the author claimed to have done research!!!
So if we put aside the personal story of the Queen, what are we left with? A rather disjointed narrative which was effective at conveying the language barrier faced by Rafael and the English woman he falls in love with. The developing back story to his life was interesting and engaging but none of the characters inspired a great deal of empathy. The ending was clever but obtuse: you are left to make your own conclusions and what I THINK happened is devastating and awful in the extreme, but then Rafael just goes home. No emotional response, nothing.
It also inspired me to look up the Marian burnings for heresy, in particular that of Perotine Massey who apparently gave birth on the pyre. This is actually true and happened in Guernsey. Shocking.
Right then, so overall there were really good features to the book but it was let down by building up expectations of something it wasn't. I would happily read more by this author but won't judge a book by its cover…
[amazon_link asins='B002RI93RO,160598941X,0007139381,0007258305,0007229720′ template='ProductCarousel' store='tiredmummyblog-21′ marketplace='UK' link_id='ba899433-114a-11e7-be38-1327a608f02b']