It has been a busy couple of days with first Matthew's birthday and then mine!
My oldest baby is 7. How did that happen?! 7 whole years have passed since I first held that tiny (8lb 5oz! bad memory is a wonderful thing…) baby and became a mum. 7 years of watching him become a wonderful person. 7 years of feeling a love I didn't know I was capable of.
We had hoped to go to the Sandhurst Donkey Derby but found out last week that it wasn't going ahead 🙁 Matthew decided on a McDonald's lunch so that was easy to do and the branch in Bracknell we went to had a soft play area inside and a playground opposite.

I cleverly (last minute panic) made a cake. Matt wanted a Hulk cake but I didn't have the right colours to decorate so convinced him that a 7 cake would be great. Whe looked at from the other side it was an L for me 🙂 2 cakes for the effort of 1 and wheat free so I could enjoy it too.
He spent most of the day building Lego, a mix of Star Wars, Marvel and Ninjago. One very happy little boy!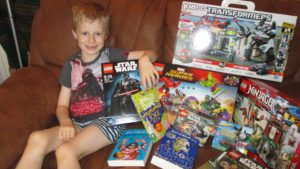 Then it was my turn. 36, huh? Still technically in my mid 30s 🙂 The day started earlier than I would have liked with a suspicious incident involving Zach's musical seahorse getting switched on and waking him at 6.10 🙁 We had a lovely day with my sister and family in Basingstoke and the kids all played beautifully together.

My superstar present was from Chris: this mug with Little Miss Blogger from the Mr Men and Little Miss series! Love it , love it, love it!!!

The day finished curled up in bed with my book, something I haven't done since before Zach was born. Zzzzz…