I have mentioned on my blog before that I have a phobia of flying and it is my dream to go on a cruise to see as much of the world as possible without an aeroplane in sight.
Last week I had the opportunity to go aboard the

MSC

Preziosa, a luxury cruise ship docked in Southampton. It was the scene of Blog Camp On Board, a gathering of bloggers from the Tots100, Trips 100, Foodies 100 and HIBS 100. I was looking forward to this day so much as I had loved meeting up with other bloggers at another recent conference and was eager to meet more and get some tips!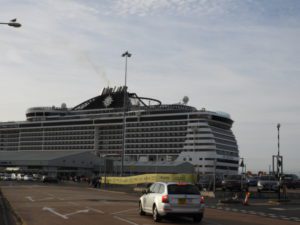 I actually hadn't spotted the ship when I arrived in the car park as it is so huge I thought it was a luxury apartment building! I managed to arrive early and chat to others before we embarked. The strangest thing is meeting people you know online and may know their blog name but not their real one!
Going onboard was so exciting and I was in the first group due to alphabetical order (a bit like school!) We were shown to a theatre to await the rest of the bloggers and this allowed us more time to get to know each other.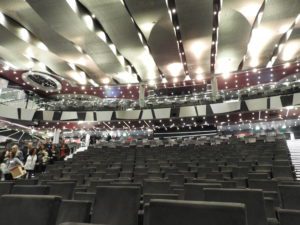 The experience began with an introduction to the children's services available on the MSC ships. I'll be honest and say that I had not really considered taking the children with us on our cruise but now I know of the provision available they'll be coming with us!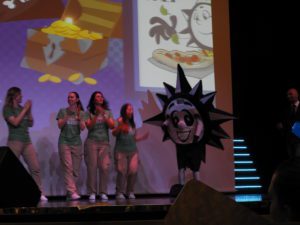 The bloggers were split into three groups and mine went on a tour of the ship which was amazing! The only downside was being unable to see inside a cabin but the ship was fully booked!
This staircase was stunning and each step cost about 10,000 Euros!
We spent a lot of the day in the Safari Lounge which was big enough to comfortably house over 120 people
Next our group relaxed with a hair and make up tutorial, demonstrating what services are available on board for guests.
Lunch was next on the agenda and as always I faced this with trepidation due to my awkward dietary needs (

vegetarian

and

wheat allergy
).

There was a separate menu and the staff were very helpful so I enjoyed a caprese salad with bread roll and then pasta.
I was lucky enough to sit wit Lauretta from

Home and Horizon

who I have known online for most of the time I have been blogging and even won 2 prizes from her #SnappedUp linky! She was even more lovely in person!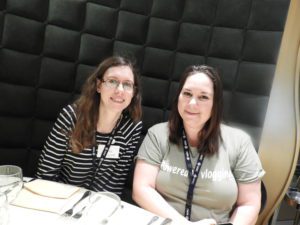 The afternoon was more blogging focused with a session on photographing food followed by a fun game based on the Tots100 metrics. A big thank you to the lovely Jenny from

Midwife and Life

for sharing her 3G connection and being my team-mate! Finally the MSC CEO came aboard to answer questions which we indulged in cocktails or coffee.
Then, very sadly, the day was over and I headed home, pleased to have made some more blogging friends and looking forward to next year's events!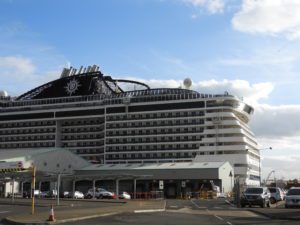 Thank you to everyone involved in organising the event (especially

Sally

): you did a great job! It really was a dream come true and I can't wait to start planning a cruise…