Trying to keep the kids entertained this Easter holidays so I booked three places at the Pets At Home Easter event at our local store in Farnborough.
Our session was booked for 1pm and we were told to wait in a quiet area at the back of the store. The children were delighted when they were approached by the store assistant carrying two guinea pigs!
Although we got our girl guinea pigs three weeks ago, cuddles have been limited to allow them to settle in and due to the weather and keeping them separate from the pups! My kids were delighted to have unlimited cuddles with these boys!
Next we made a foraging box which we were allowed to take home. this included an instruction sheet so that we could replicate the task at home. I think the kids spent more time using the cabbage to feed the guinea pigs than actually assembling the box!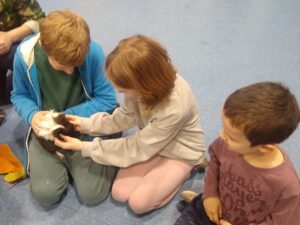 After that we moved to the reptile area and the kids were delighted to hold a bearded dragon (well, Zach wasn't too keen!) The underbelly was surprisingly soft but those claws were pointy! We also got to stroke the gecko and a couple of snakes before moving on to feed to the fish.

Our experience lasted around 45 minutes and the children received a balloon, certificate and activity sheet on departure.