What a spectacularly glorious bank holiday weekend and sooooo busy for us! Due to my vertigo, I was unable to drive myself to Manchester as planned for BlogOnX so I dragged my family along too! And I am so glad I did because we had an excellent time.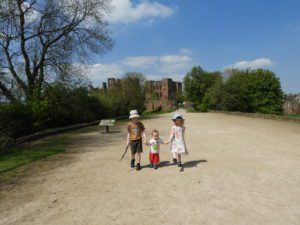 We left home at 8am on Saturday and headed to Didcot to drop Ollie off with friends (judging by the pics of him relaxed on a sofa he had a great weekend too!)
We hit the road again and headed to Kenilworth Castle which is somewhere I've always wanted to visit due to the historical connection with Elizabeth I and her unrequited love for the owner Robert Dudley. We renewed our

English Heritage

membership last month as it is such fab value for money.
Kenilworth Castle is just stunning. It is the ruins of a red brick fortress with beautiful gardens, the stables have been re-purposed as the cafe and an intact gatehouse which houses exhibitions.
The ruins have lots of stairs to climb which scared Matt a bit but he made it all the way to the top! Zach was desperate to independently climb every step but we simply didn't have the time!
Boards around the site helped to conjure up what it would have been like 500 years ago. The most difficult one to imagine was that water went up to the outer wall but now it is fields as far as the eye can see.
Anya was particularly enchanted by the gardens and the fountain. It was very peaceful even though it is quite close to the road: the cars are drowned out by birdsong from the aviary.
An ice cream was essential in this hot weather and we couldn't believe how big the cones were!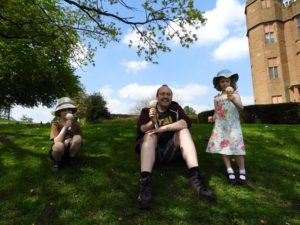 My only disappointment was that the Elizabethan artefacts were not photographable as there were big signs up. There were activities in the gatehouse such as wearing a gauntlet and rebuilding a stained glass window but again these were in an area where photos were not allowed.
We spent about 4 hours at Kenilworth Castle and could easily have spent longer!