On the way home from Scotland way back in August, we stopped off near Birmingham and were overwhelmed with options for places we wanted to visit. The kids were knackered so we decided to go home and return at a later date.
This half term we headed to Stratford upon Avon, a place linked forever to William Shakespeare. Our first stop was actually the Stratford Butterfly Farm and you can read about our visit here.
I bought tickets for the full story from the Shakespeare Birthplace Trust which enabled us to access the five properties charting different parts of his life and that of his family.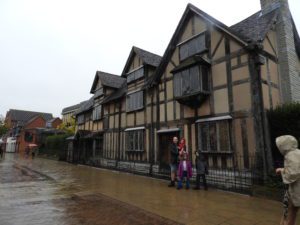 We began at his birthplace on Henley Steet where he spent his childhood and the first five years of his marriage. William Shakespeare inherited the house as the eldest surviving child in 1601 but he was in fact the third of 8 children born to John and Mary. He then split the house to create an inn which was still in business 200 years later. The house later passed on to William's daughter Susanna and then his grnddaughter Elizabeth before transferring to the descendents of one of Shakepeare's sisters.
After a spot of lunch we moved on to Shakespeare's New Place where he moved in to in 1597 and where he later died in 1616. The original house itself was demolished in the mid 1700s but the gardens trace the design of the Shakepeare's home.
Our next stop was Hall's Croft, home to Shakespeare's daughter Susanna after her marriage to Dr John Hall.
We finished our tour of Stratford with a visit to Holy Trinity Church where William Shakepeare and close members of his family were baptised and buried.
On the Sunday we visited Cadbury World and the Lapworth Museum of Geology (post coming soon!)
Before heading home on Monday, we visited the final two locations in the Shakepeare trust: Mary Arden's farm and Anne Hathaway's cottage.
Mary Arden was William Shakepeare's mother and the farm was built by her father. She was the youngest child and had 7 older sisters. She married John Shakespeare in around 1556 and had 8 children herself, although 3 died in childhood.
Our final Shakespearean destination was his wife's first home. Anne Hathaway was probably born in her family's cottage in 1556. The cottage remained the home of Hathaway descendents until 1911!
I didn't realise before our visit that Anne and William married when she was 3 months pregnant. He was only 18 and she was approximately 6 years older than he was. Very little is known about Anne or their marriage but I hope that their early passion led to a happy life together.
I absolutely LOVED our long weekend away in Stratford upon Avon. Our tickets are valid for a whole year so I'm hoping we can go back in warmer weather and enjoy all of the fantastic historical locations in their summer glory!