Mesmerising from start to finish. The children sat with their jaws dropped in wonder, or bounced up and down in their seats, or laughed with sheer joy.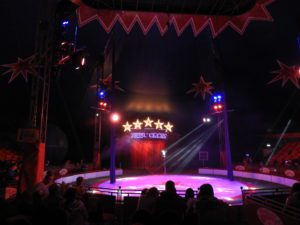 Zippos Circus arrived in Guildford yesterday and we were thrilled to be invited to their preview show. It was nothing short of spectacular!
The show began by introducing the comic Paulo which would thread throughout the event. Audience participation through clapping and singing was encouraged and the children were instantly hooked.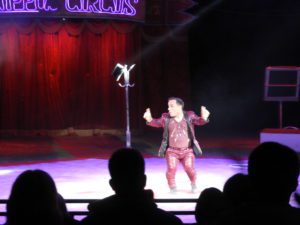 We were then treated to amazing examples of contortion and dexterity as well as teamwork balances, astonishing skiping and acrobatics.
Anya is desperate to do gymnastics so she loved the mastery of the body that these acts demonstrated. Zach and I were awed by the ability to juggle 5 balls with feet and hands as coincidentally we spent a day this week trying to learn to juggle a mere 3 balls with our hands with disappointing results 🙁

The final act before the 20 minute interval was an extraordinary sight: motorbikes whizzing around a metal ball, seeming to defy gravity. It started with 2 bikes then more were added until 5 bikes were zooming around. At one point, a brave circus member got inside the ball and they rode around her. Terrifyingly brilliant!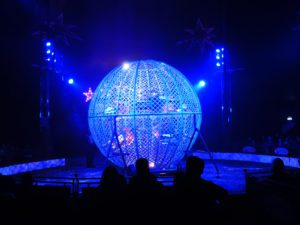 The second act opened with acrobatics and knife throwing. We have attempted axe throwing at Beavers/Cubs and it is sooooo tricky.
A slight musical interlude with Argentinian music followed by some fire!
Acrobatics through hoops and then a truly mindboggling limbo. Every time they moved the pole lower we said 'no way' and yet he managed it, phew!
Comic act Paulo had a chance to show off his acrobatic skills and strength alongside Laci Fossett.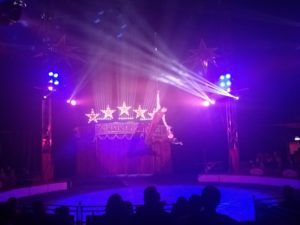 Commanding ring master Norman Barrett MBE ended the show on a gentle note with his budgies. Both Chris and I admitted feeling a little uncomfortable at the use of animals in a circus but reading the Zippos website reassured us that the birds are kept in the best possible conditions.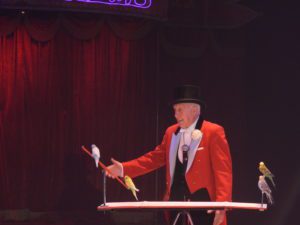 The circus is in Guildford until Sunday and there are still plenty of other opportunities to enjoy the performance in 2019: check the date and venues here and use code ZIP50 for 30% off ticket prices!
*We were given complimentary tickets in exchange for reviewing the show