On the evening of the 30th March I was lucky enough to be invited to the launch of the new Dive 4D experience at The Mary Rose Museum in Portsmouth.
I first visited the Mary Rose in the late 1990s when I was doing my A Levels. At the time, the wreck was still constantly sprayed with water and special preserving chemicals. The sprays were turned off in 2013 and the new museum opened in 2016. We visited as a family in 2019 and the kids were very excited to see Henry VIII in the glass lift!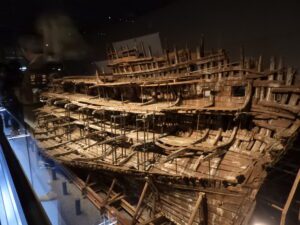 Since our last visit, the entry to the museum has changed and there is now a video introduction which includes a re-enactment of being on the Mary Rose in battle when it sank. I found this really effective as it genuinely felt like I was on board.
The museum holds thousands of artefacts from the ship and it is these personal items that are the most poignant. Only 35 members of the crew survived while nearly 500 died. Little details such as a tile with a paw print, items of clothing, clothes, bring the reality of the tragedy into sharp focus.

The exhibits include skeletons of some of the crew and facial reconstructions so that we can imagine them as people. It is the little details that make the exhibition so special and a fitting tribute to those sailors that died.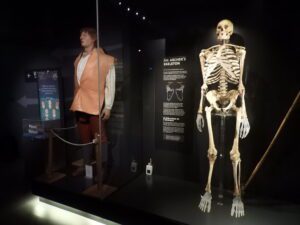 The latest addition to the museum is the Dive 4D experience which is now open to the public. Dive 4D is a reconstruction of the recovery of the ship and the excavations under the sea. It is included in the ticket price and lasts about 10 minutes.
The ship sank in 1545 and was brought to the surface in 1982. There is a video introduction showing the background to the search for the wreck. You then move into a small theatre and are taken back in time to 1982. Special 3D glasses are provided and I enjoyed the feeling of being under the water at the wreck site. The seats tremble, you feel a fresh sea breeze, and bubbles are released during the show.
Final photo credit The Mary Rose (all others are mine)
The Dive 4D experience is an excellent addition to the museum and will thrill visitors of all ages. I thoroughly enjoyed my visit to the Mary Rose Museum and am very grateful for the opportunity to attend this special launch (thank you NJRPR!)
You can book your tickets for The Mary Rose Museum at Portsmouth Historic Dockyard, including the new Dive 4D immersive cinema experience, at  www.maryrose.org