As promised on my latest #project365 post, here is the recipe for the delicious apple and custard tart which I made using the apples from our garden! It can be eaten warm, an hour after cooking or eaten cold and fully chilled in the fridge.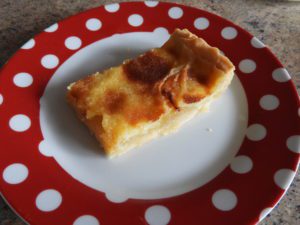 Ingredients
For the pastry
200g plain flour
100g  butter or hard margarine
1 medium egg
For the filling
25g unsalted butter
25g caster sugar
2-3 sliced apples
100ml double cream
1 medium egg
50g caster sugar plus 1-2tbsp extra

Method
For the pastry, I used my stand mixer that we were given as a wedding gift! On a slow speed mix the flour and butter or margarine together until it resembles breadcrumbs. This can also be done is a food processor or rub in by hand.
Add the egg, 1 tsp cold water and mix again. My pastry is gluten free so requires extra water because it absorbs more than normal flour.
If you are using normal pastry then chill for 30 mins but I find this doesn't work with gluten free pastry dough.
Roll the chilled (or not) dough to the thickness of a pound coin and place in dish. Gluten free pastry can be more delicate so I pressed my dough into the tin by hand. Prick the bottom of the tart with a fork.
Now start on the filling: heat the butter and 25g caster sugar in a small saucepan or in the microwave until the butter has melted and the sugar has dissolved.  Heat oven to 220C/200C fan/gas 7.
Arrange the apple segments over the base, overlapping the apple slices as you go. Brush the apples all over with the butter mixture. Bake for 30 mins.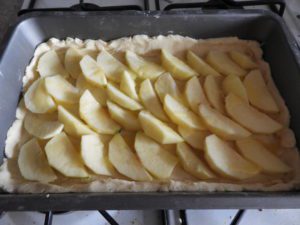 Meanwhile, whisk together the double cream, egg and 50g caster sugar until well combined.
After the 30 mins baking (the pastry should be pale golden brown and the apples have started to caramelise) sprinkle the tart with 1-2 tbsp caster sugar, then pour the custard mixture into the tart. Bake for a further 10 mins until the filling has just set.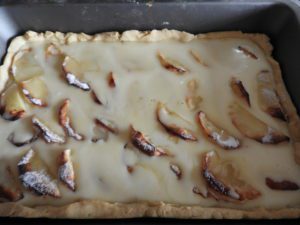 To serve, remove the tart from the oven and set aside for 1 hr to cool a little. Or allow to fully cool and chill until required.
For more gluten free treats, take a look at my apple crumble, chocolate brownies or have a look in the food category in the sidebar!