Earlier this month I was lucky enough to visit Bill's at the newly opened

Lexicon

in Bracknell. There were things on the menu I wanted to try but couldn't really as it was breakfast time!
Last week my friend and I went out for lunch in my local town of Camberley and headed to Bill's at the Atrium.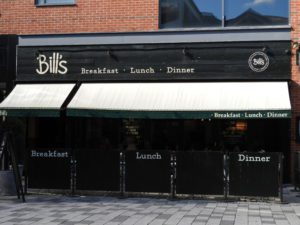 We were warmly welcomed and Zach's buggy and high chair were quickly arranged, along with a colouring sheet and crayons.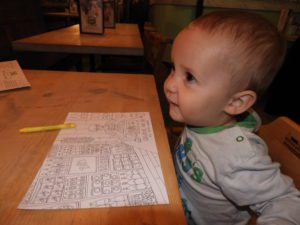 Please note, this is the last time that Zach smiled through the whole meal (with the exception of when he was stealing my pudding…), his behaviour was awful and I am so sorry to the other diners 🙁
I really wanted a White Russian hardshake but as I was driving and in charge of a small unreasonable person I contented myself with an iced coffee milkshake which was delicious and perfect for the weather (somehow it was warm after weeks of coldness!)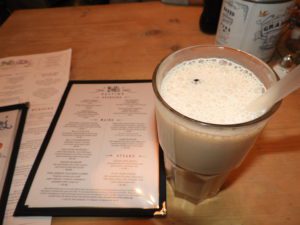 I chose beans on toast for Zach as he loves it and I had planned for him to feed himself (best laid plans 🙁 ). The portion size was ideal for him.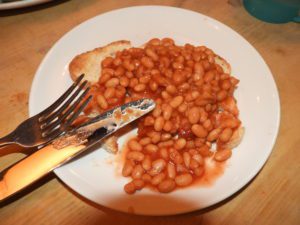 I opted for the gluten free halloumi burger. I had to eat it in layers as Zach was being thoroughly awkward and demanded to be held so I was attempting to hold him, feed him and myself all at the same time. The burger had a tangy chilli sauce which really added a great depth of flavour to the roasted peppers and halloumi cheese.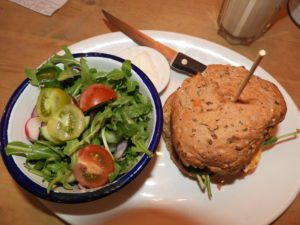 We considered leaving before pudding as Zach was so awful (never take a child out at nap time!) but I couldn't resist the gluten free chocolate brownie. It was amazing and astonishingly Zach calmed down after eating half of it…magic!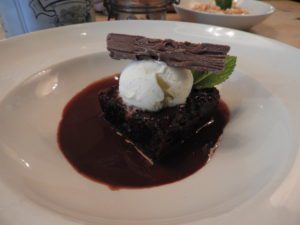 My friend chose a naked burger for her main course followed by the banana and honeycomb cheesecake.
Overall we were thrilled with our meal. I love that Bill's has various options for different diets such as vegetarian, gluten free and the calorie conscious. I wish the chips were wheat free as it would have gone so well with my burger and made me feel 'normal' but it was amazing to have burger buns available at all (and let's not forget the scrumptious brownie!). The only thing I disliked about the whole experience is the obligatory service charge but that is my own personal preference for having control over tips.
We will definitely be going again: that hardshake is calling me!
*We were given a gift card to cover part of the bill, the rest of the balance was paid by ourselves. All opinions, photos and comments are my own.