Gretna Green was our final place to visit in Scotland. World renowned for marriage elopement, I enjoyed the museum and the whole wedding atmosphere (a wedding party arrived and were getting ready in the car park while we were there).

I particularly loved the wedding dresses depicted fashion through the ages. The soppy part of me wshed we had gone a week later and renewed our vows on our first wedding anniversary!

Of course, the highlight for the children was the playground! Seriously, next year I think we will just do a tour of local playgrounds and not bother taking them away!

Back into England! Carlisle Castle is just over the border, only 20 minutes from Gretna. It boasts being the most beseiged castle in England due to many skirmishes with the Scots.

Carlisle Cathedral was a magnificent piece of architecture. The bright blue ceiling and stained glass were simply stunning.
We had a quick stop at Morecambe just to stretch our legs and admire the view across the bay.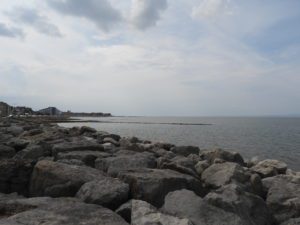 Our dwelling for the night was Walsall Premier Inn. We headed to Lichfield in the lashing rain (it really was quite scary). We had promised Matthew an Ask Italian dinner but I had been unable to book and when we arrived there was no space. Instead we tried somewhere new: Ego. The meal was fabulous and transformed our soggy dinner disaster into a happy ending for our holiday.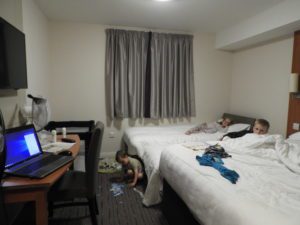 Next morning we picked up Ollie and collapsed at home. Oh, and then started on the laundry…