We woke to rain and our last view of Loch Ness was with atmospheric cloud low over the water, the tips of the mountains hidden.
We began our trip southwards to our holiday cottage which we would be in for the remaining week in Scotland. Once again I had planned a number of stops to avoid boredom (us and the kids), allow us to stretch our legs as well as enjoy Scotland's sights and sound.
We stopped off at Inverlochy Castle and explored the ruins.

My research had indicated that there was a visitor centre at the Falls of Falloch but when we arrived it was pouring with rain. Chris ran out and cased the joint, took a pic of the lovely falls but came back to report there were no toilets. Instead we drove a little longer and found the Drover's Inn to stop and have some lunch. This spooky pub is allegedly haunted but had a fab atmosphere and it was easy to imagine what it was like a century ago.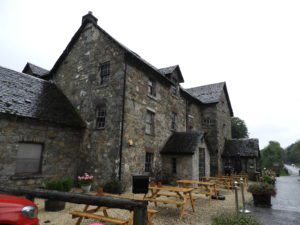 We got back on the road but there was a traffic accident so the road was closed. The ONLY road! We had to turn back and find an alternative route, backtracking on ourselves.
We finally settled on going to Stirling and after negotiating some rather scary hilly streets arrived at Stirling Castle. Once again our English Heritage membership gave us a spectacular saving.
Stirling Castle was magnificent and more than made up for the disappointments of earlier in the day. Of course, it also helped that the rain had abated!

The castle is absolutely crammed with historical information. The walls have bright murals to shpw what it would have been like 500 years ago. Even the outside has been painted the original vivid ochre colour, making the castle stand out from the landscape (over the subsequent days we frequently saw the castle as we drove past, it really is noticeable!)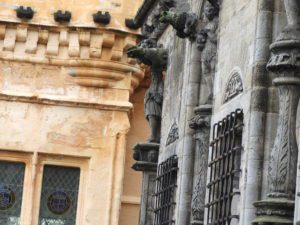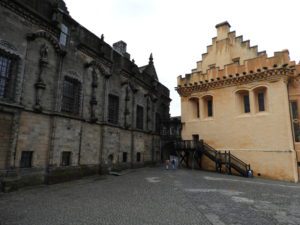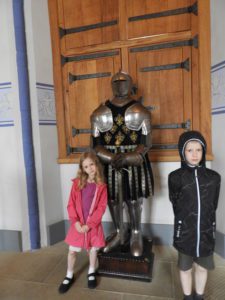 Finally we arrived at Stonylea Cottage, our home for the next week. We were delighted to find thoughtful gifts from the owners: cereal, milk, bread and more! The cottage was wonderfully spacious and the garden looked fab but was too wet to explore yet…