On this day we did an entire loop of Loch Ness, starting and finishing at our glamping pod. Halfway down the opposite side of the loch is the ruins of Urquhart Castle. As you arrive, you discover that the castle was destoyed by its inhabitants to prevent it being used by the Jacobite enemy.
Next on the agenda was the Loch Ness Experience. I'm not sure what to make of this. I expected it to be more of a museum but instead it is a series of videos that you are led through in sequence. It was interesting but I'm not sure the kids would agree. The final room was more hands on but it really wasn't very child friendly overall.
For lunch we headed to Inverness and had a chance to explore the city centre. We visited the Inverness Museum and Art Gallery. This had lots of actvities and artefacts to keep the children entertained, and was a great way to learn more about Scotland's history.
We were able to look around the outside of Inverness Castle but it is now law courts so tourists cannot enter. Outside it, stands a statue of Flora MacDonald who helped Bonnie Pince Charlie.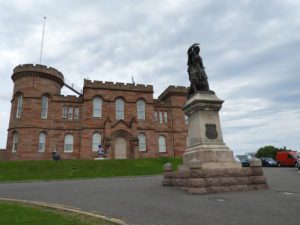 We walked along the River Ness to reach the cathedral. Dotted around Scotland are a number of colourful statues:  these laughing boys called Oor Wullie (apparently a cartoon character) that have each been decorated in a unique way.
Unwilling to give up on the day, we went to Culloden, a famous battlefield in the Jacobite rebellion.
Seeing the flags dotted around the landscape to indicate the placement of troops gave some notion of the overwhelming size of the number of men involved in the battle. The clan name markers gives a sense of loss and the whole area is classed as war graves.
Our evening was a repeat of the night before, dinner then exploring the shoreline: we knew the rain was imminent…