Matthew proudly came out of school on Friday with the class bear. I was less thrilled. we always seem to get it when we have NOTHING planned…
Phew! Monday night is Beavers night and luckily they were completing their cycling badges: something to write about!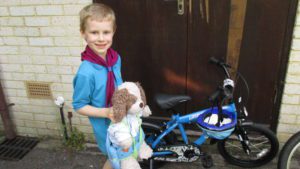 We panicked a few weeks ago when the schedule was announced as Matthew was unable to ride a bike. He had outgrown his bike so there was a panic buy of a new one amidst much glee from Anya that she now could have Matthew's old one.
We practiced in the garden, on the patio, at the park, in the street, in the alley.
Success: he could ride!
I proudly told the Beavers leader and she mentioned that the cycling badge focused on other skills such as safety and pumping up tyres. Panic again! But actually it was fine 🙂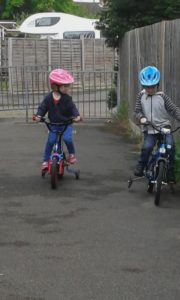 Now you may have read about my worries concerning cycling and children as it is illegal for them to ride on the pavements. I have been overwhelmed with support from other parents saying they wouldn't let their children ride on the road and face the same worries about safety that I wrote about. My vlog about cyclists on pavements 

and the dangers faced by pedestrians has also received a lot of support and I have heard awful stories of children being hit by cyclists riding illegally on the pavement. 
I still have a lot of concerns about cycling but until they have passed their cycling proficiency and have more road sense I will not allow them to ride on the road. Equally I will not allow them to cycle without me there to supervise so I retain full responsibility for their actions.
So on a happier note, after lots of practice riding around and learning other bike maintenance skills and safety tips, Matthew got his cycling badge and certificate. Proud mummy!

The next step is taking off the stabilisers. Both Matthew and Anya are ready for this but I'll work on Matthew achieving this first as he is older to boost his confidence. Roll on half term!