This bank holiday weekend was a very special one as it was my mother in law's 70th birthday!
It seems strange to think that only 3 years ago I had never even met her. She and the rest of Chris' family have welcomed us so warmly and it makes me feel humbled that they are all so generous with their time and love for us.
After a busy time at Haguelands (separate post to follow later this week!), we then headed to Dymchurch beach to enjoy the warm weather and an ice cream. Unfortunately we completely mistimed it and the tide was high: no beach at all! We still had the ice cream 🙂

One of the things we love most about Dymchurch is the railway. It goes right past the end of Penny's road so the children love watching the steam and diesel engines.

We then relaxed in the garden with the red train from Chris' childhood.

At one point musical instruments appeared…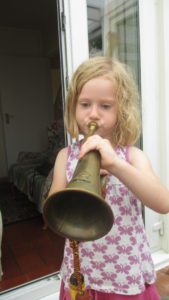 Sunday was Penny's birthday and the children were very eager to hand over their presents. The most exciting present was a gorgeous canvas print of Zach and Jess (Penny's Jack Russell) which I ordered from

Bags of Love

.  Penny was thrilled with it, the canvas was absolutely lovely (and delivered VERY quickly so I was hugely impressed too!) Penny phoned last night to say she has put it in pride of place in the parlour so that she can look at it and show it off to her friends 🙂
Walking the dogs was the next task and luckily for the children that meant a playground!
Snack time. Penny isn't a great fan of cakes (except my lemon drizzle!) so we'd agreed on little cakes for the children.
We then went on a journey into the past with a trip to the Martello Tower where Chris' brother and other locals who celebrate the Day of Syn every other year had joined forces with Red Coats.

Then it was the beach at last. The kids had a fabulous time.

More trains and then home for fish and chips and more playing in the garden.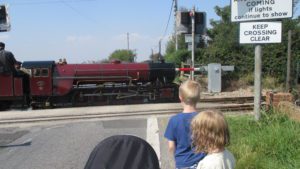 A very busy and happy bank holiday 🙂
*Bags of Love invited me to explore their range and I chose the canvas as a gift. I am now planning to go back and buy other canvas/wood/metal wall art as we have NO pictures of Zach in our own home!