So, I am currently 2 weeks into my temporary job as a food technician at the school where I invigilate exams. It has been an eye opening experience!

I'll be honest that many of the tasks I have to complete are quite mundane like doing washing and folding tea towels. However, it can also be totally manic when I need to prepare 42 lots of gingernut biscuit ingredients!
Food technology at this school is quite different to my own school days. Back then, we had to bring in everything from home. Mum hated it and in fact declared I wasn't allowed to take Food Tech for GCSE due to the faff involved. Today, the majority of the ingredients are provided. I can see the sense in this as it reduces the strain on parents and also ensures that cooking can actually go ahead. But how do the children learn responsibility…?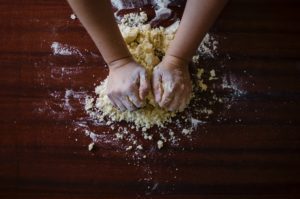 Last week we made fruit crumble and I prepared 20 bowls of crumble ingredients but the children were required to bring in their own fruit. At least 6 children didn't so were unable to complete the recipe.
I know from my exam experience that children are frustrating in their inability to remember anything, even the basics of a black pen to enable them to write!
This week, the Year 11s have been doing their catering coursework and even though they are supposed to have practised their recipes and brought in everything, there have been instances when ingredients have not been brought in and I have had to dash to the shop to fetch them.
I have also been quite smug as my own rather crappy efforts at cooking suddenly make me look like a domestic goddess compared to the children's ability. They were making spaghetti bolognese and the sight of them hacking at onions and leaving skin on when adding to the pan was eye wateringly painful.
It has reinforced my decision to make my children cook a meal a week at home when they get to secondary school in order to prepare them for later life (Matthew is only 9 but is going to attempt a bolognese this week…)
Children are creative sponges so we need to encourage them to develop their culinary skills. We owe it to them as parents and education workers to prepare the for their future lives, thinking about balanced diets, combatting obesity and encouraging a healthy attitude to food.
Do you have secondary school aged children and how is food tech/catering dealt with at their schools?