Hope that got you singing!
But actually this post is about real neighbours.
We have neighbours on either side of us. One family are lovely, the other are antisocial selfish idiots.
We have had trouble with them since we moved in. Things got off to a bad start when I went round to say hello and introduce ourselves. The daughter answered and I asked to speak to her mum or dad. The mother swooped in and said that her husband had died and glared at me for upsetting her daughter. How did she expect me to know?! I obviously apologised but things have never settled.
I have frequently taken in parcels and items for them including a set of 4 tyres and a double mattress but there has never been any thanks and they never come round to get things, relying on us to take them round.
Our first summer, the son smoked cannabis repeatedly in their garden which meant we couldn't have our patio doors open or be outside due to the smell. He and his friends were also frequently outside swearing and shouting. No way was I exposing my children to that behaviour. The mum and son also chain smoke on their patio all year round and the smell is revolting so we have to shut our windows and doors.
Parties. So many parties as the mum worked nights so the teenagers did whatever they wanted at all hours. Thudding music until the early hours, squawking shrieking girls, shouting drunken lads and the state of the garden in the morning was hideous.
I wrote a note as I didn't want any confrontation with the mum as we had had minimum contact, not even acknowledging each other on the shared driveway.
Two years ago their giant red parasol blew over the wall onto our patio, hitting poor old Ollie who was having a snooze. I called out 'are you there?' and the mum popped her head over the wall and said 'is it broken?' Not concerned if it had broken anything of ours, nor considerate enough to check if it hit anyone (she had heard us playing so knew we were all outside. All she cared about was the bloody parasol… 🙁
They regularly choose to burn rubbish in the garden, meaning we can't hang out washing or play outside. They give it little supervision and it is quite simply terrifying as the flames are so big. Plus they burn plastics which are releasing goodness only knows what into the atmosphere.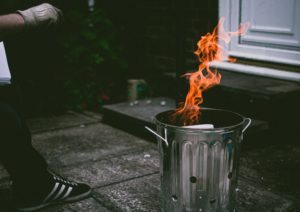 They have had work done on their house and garden. Working from home as I mostly do, the relentless builder sounds were awful and made it incredibly difficult to concentrate. If only they'd been thoughtful enough to inform me then I could have planned ahead to work at Mum's as I did when the lovely neighbours on the other side had an extension built.
Then a couple of weekes ago I came home from an exam invigilation and found the mum pressure washing their side of the driveway and spreading all their building debris onto OUR drive. I went out with a brush and swept it back over. Childish perhaps, but oh so satisfying…
Parking is a major issue. They have 5 vehicles including a van and a wreck that is rusting away. They have space for 4 cars yet there is never more than two on the driveway. Instead they park on the pavement with little thought to other neighbours, often blocking in our lovely neighbours.
Friday night they had a guest who parked completely across our driveway. I went around and asked them to move and they made out I was being awkward and sighed and tutted as they went out to the car.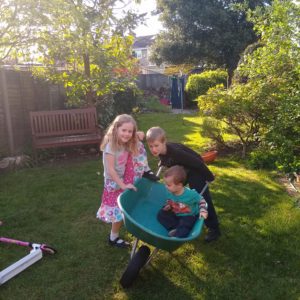 I am aware that we are not perfect neighbours ourselves. I know the children are noisy and I probably shout at them more than I should (seriously, how many times should you need to tell someone to get their shoes on for school?!) I understand that and try to keep our noise to a minimum but playing outside is so important for children.
I love our house and we are so happy here. We would like a bigger home and would love to extend our current space but due to our awful neighbours, we just don't want to live here much longer. Sad but true 🙁