Back before Christmas, I treated myself to some goodies from Chemist.co.uk and was really excited to try the Balance Active Formula range which I had heard loads about!
To be honest I was initially a little underwhelmed by the products. I think my expectations were too high. The serum was just like water but absorbed very quickly. The wrinkle filler, eye cream and moisturiser just seemed normal, perhaps a little thinner in consistency than I am used to.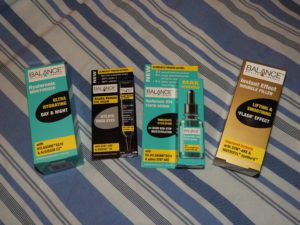 However, having used the products for 6 weeks I am impressed with the results. My skin is a lot clearer and smoother than it was previously. I can't say that my eyes are 'rested and rejuvenated' due to the lack of sleep (thanks Zach) but maybe they would look worse if I hadn't been using the eye cream!
The serum which I originally thought was too thin is so lovely and non greasy while the moisturiser and wrinkle filler complement it well.
I didn't like the packaging at first (except the serum: I LOVED the dropper!) because the products were in tubes rather than pots like most creams. However it actually makes it easier to dispense as you can squeeze out the correct amount rather than dipping fingers in a pot and getting it all up your fingernails (or am I the only person that ever happens to…?)
I also like that there is no separate day and night cream and the products can all be used morning and evenings so there is no faffing about.
Overall I am impressed with the Balance Active Formula range and would definitely like to buy them again. I love the sound of their Dragon's Blood range so will look out for them!