Avon Anew Essential Youth Maximising sheet mask
I like a face mask, usually as a bathtime relaxing treat. I decided to try a sheet mask for the first time ever!
The mask comes in a sachet and I was a little surprised at how wet it was and how much liquid was left in the sachet. I found the mask to be slightly too big for my face so I kept having to smooth it down over my cheeks and under my chin. Where it made good contact with my skin, the mask left the serum on my face well. It had a really pleasant fresh fragrance and the serum was quickly and easily absorbed into my skin.
2 hours later, my skin felt really smooth and even 12 hours later was still soft.
If you fancy a laugh then take a look at my video!
Olay 7 in 1 Moisturiser and Serum
Sadly this product was a huge disappointment. It doesn't rub in very well so I had streaks left on my face: not ideal when I sometimes don't get a chance to look in a mirror before leaving the house!
The packaging is a clever design and the product is easy to dispense. The swirl of the moisturiser and serum looks very attractive. The smell of the product reminds me of sun cream which I don't particularly enjoy.
I will finish using the bottle of moisturiser but only when I have time to ensure it has all been properly absorbed, and I won't be buying it again…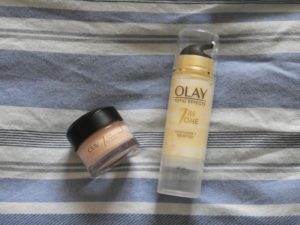 Olay 7 in 1 Eye Transforming Cream
My hopes were not high after my experience with the above, but I opened this eye cream about a week later and am so impressed with it.
It absorbs straight away and is slightly runnier than other eye creams I have tried. The cream is a pale peach colour and has tiny specks of glitter which reflect light so make dark circles appear reduced.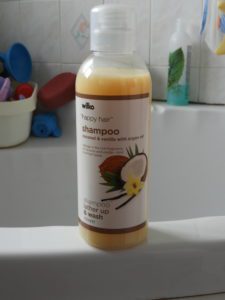 Wilko coconut and vanilla shampoo
Vanilla is one of my favourite scents so I was looking forward to trying this huge bottle of shampoo from Wilko. It actually doesn't smell overwhelmingly of coconut, vanilla or argan oil and is quite subtle.
The bottle is a hefty size and only £1 so excellent value for money. It has a slightly strange consistency as it is quite runny while I am used to creamier or thicker textures.
The cleanliness of my hair after using is ok for everyday/every other day use but no longer than that. I'm interested to try the other hair care products in the range to see how they compare.
Have you tried any of the above products, and if so what did you think of them?