As I may have mentioned a couple of times, I got married this summer! I haven't got around to making a wedding album yet but wanted to get a few pictures to display and give as gifts.
Tesco Photo

is our closest photo shop, situated in our local superstore and my parents have been in store to order prints many times.
I was invited to test out the online options and was overwhelmed by the range of choice available!
My first choice was a large canvas, sized 30 x 20 inches of one of my favourite photos from the wedding. Zach was in and out of photos so this is one of the few with all of us in it, vaguely looking in the right direction!
The frame is sturdy and bigger than expected (I honestly had no idea how big it would be!) The picture quality is great and the canvas looks brilliant on our stairwell wall.
I chose a second canvas sized 10 inches squared, but this time it was a collage one and I had lots of fun mixing around the photos to get a design that I liked best. I planned to give this to my parents as it has all of their grandchildren but I love it so much I might have to order another one so that I can keep one too!
Finally I looked at the photo frame options.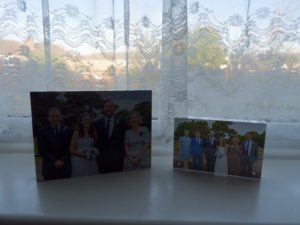 I picked out a wooden block available in black of white. It is freestanding and very stable. The size I chose was 8 x 6 but others are available to suit your needs.
I also chose a 6 x 4 acrylic block frame. The photo is held between 2 sheets of acrylic and kept together by magnets. I liked this because the frame is reusable so you can change the picture at a later date if you want.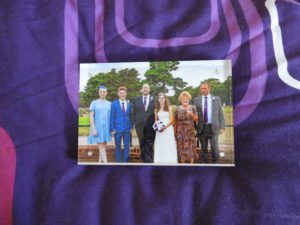 There are same day options for some items for those of you in a hurry but I was happy to wait (less than the 8 days they advised!) Free delivery to a store or home delivery are both available and you can also collect Clubcard points on your order.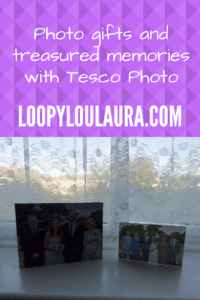 *I was invited to pick items for the purpose of this review