Anya was thrilled to embrace her inner princess when she discovered I'd ordered a dress from David Charles, which has dressed REAL princesses and celebrities.
Aftetr much indecision as there were so many beautiful styles of dress to choose from, I finally chose the dress that I thought Anya would love most. Indeed, she said she wished she'd had it last year as her bridesmaid dress at our wedding!
The cream and gold shift dress from David Charles' new spring and summer collection is simply stunning.

The gold thread glints in the sunshine and the delicate embroidery makes a beautiful floral pattern which is very pretty and feminine.

The flower detail at the shoulder is a gorgeous extra whilst keeping with the simple lines of the dress.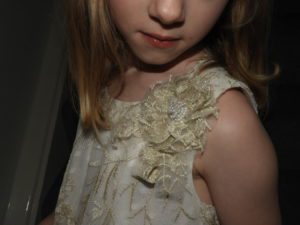 Sizewise, we ordered age 7 becasue Anya is quite tall for her age. It fitted perfectly.
David Charles dresses are available from toddler to teen sizes and the classical styles are timeless, ready for any special occasion.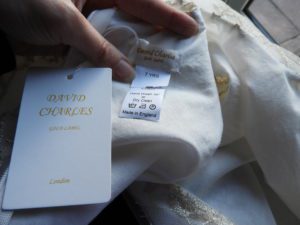 This designer dress retails for £295 which is more than I have ever spent on a dress for myself let alone Anya. For a special occasion it is well worth the money as the quality is superb and the happiness on her face was priceless.
David Charles is active on social media so take a look! :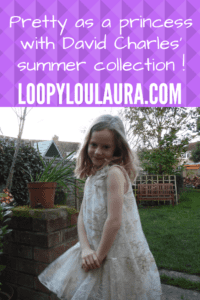 *Anya received this dress for the purpose of this review. All opinions and pictures are our own