Time to cover up. I am not a fan of strapless tops and if I'm brutally honest I have bingo wings. Many wedding dress designs are strapless including the one I received from

JJ's House
.

Wingz offers a range of solutions to help cover the arms and suit every style.
There are fitted and flared options, lace or plain and they come in a variety of sizes and colours to match your wardrobe.
I chose the stretch lace three quarter length Wingz in white to match with the wedding dress and they matched perfectly!

The Wingz are easy to put on and comfortable to wear. They add a degree of confidence to an outfit by covering areas that you may feel self conscious about without having to add another layer like a cardigan and then over-heating.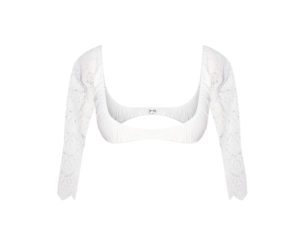 As you can see from the design, Wingz feature a scoop neck at the front and back to make the garment blend in with your top or dress. It didn't feel like I was wearing an extra item, it just felt like a natural part of the dress.
I loved wearing the Wingz: they really gave me a confidence boost and now I can refresh my wardrobe and resurrect my strapless and sleeveless tops that have been stuck at the back of the cupboard.
*I was sent these Wingz for the purpose of this review.