Did you see my post about Ollie and dog walking this winter? Today I am reviewing my stunning purple ensemble!
You may have spotted that purple is my favourite colour so I was delighted to find a number of purple options on the Millets website for women's winter jackets and women's walking boots.
I chose a 3 in 1 jacket which is something I didn't even know existed! The jacket comprises of 2 parts which can be worn individually or together.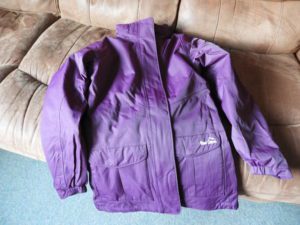 The outer coat is waterproof and also has a hood which tucks into the collar. There are 2 outer pockets, perfect for keeping hands warm, and also an inner one for keeping items safe and dry.
The colour is gorgeous!

The inner fleece is a gentle lilac colour. It is secured to the outer layer with elastic cords at the neck and wrists and a zip.

Overall, the jacket is great for versatility and suits chilly and wet weather. Put together, I was very warm in the jacket so look forward to a cosy winter!
Moving on to the boots…they are brilliant! I am usually a size 3 but the boots started at a 4 so that's what I chose. They were very comfortable and I didn't feel that they were too big.
The purple of the sole and laces provides a real pop of colour that makes them stand out. The only problem is that I don't want to get them muddy and spoil the purple perfection!
The boots have a great grip on the sole for avoiding slips and alo have a waterproof inner layer to keep feet dry even with all those wintry puddles (and snow…?)
I'll be honest, Chris spends a lot more time outdoors that I do. He knows a thing or two about men's walking boots!
He chose these sturdy boots which he declared were the most comfortable he'd ever tried. The boots are cushioned well to protect the foot and the sole is thick to help you keep your footing.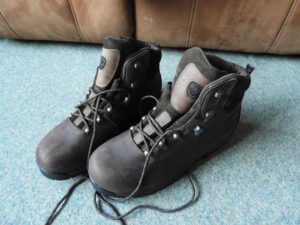 Chris wanted a men's insulated jacket that would protect him from the elements (Ollie needs walking in ALL weather!) but also not make him overheat.
This North Face jacket is water repellent and has a mesh lining to help regulate temperature. It had a hood with a peak to keep the face clear of rain and wind.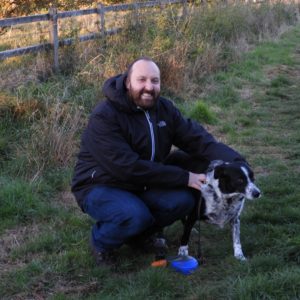 Hello winter: we are ready for you!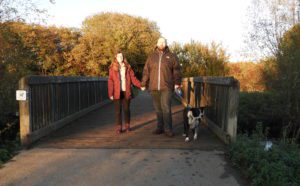 *The brands included in this post asked for our opinion on the products featured from their range. All thoughts and opinions are our own.