Day 311: when you dig out the old dog bed and realise the new dogs are almost invisible on it…
Day 312: after months of searching, my mum finally found a blancmange packet and Matt is exceedingly grateful!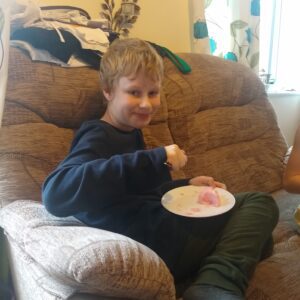 Day 313: who will be the Word Master champion?
Day 314: just your average day at school when the witches and wizards show up 🙂
Day 315: a belated bonfire night at the scout group
Day 316: leaves, leaves, leaves everywhere. So glad I don't have to push a buggy through these any more!
Day 317: Matthew has taken an awful lot of train pics of his model railway so this Duolingo phrase made me chuckle
You are invited to the Inlinkz link party!