44 Cats is a daily children's TV show on Pop that follows the lives of a musical band of cats who are collectively The Buffycats, and now you can make your own games with a new range of toys.

The main characters are Lampo, Milady, Pilou and Meatball who have transformed a garage into a clubhouse. We were sent a range of toys to explore the characters and play sets available.
Musical soft toys – available from Argos
The musical soft toys are 8 inches tall and there are the four main characters to collect. We received Milady who is super stylish in her sunglasses. This plush toy is super soft and cuddly and is suitable from birth.


Squeeze the plush tummy and hear the original 44 Cats song from the show play.

Club House playsets –  RRP £17 each, available from The Entertainer
Join the Buffycats gang as they hang out in these Club House Playsets! Each cat has their own corner of the garage club house to call their own.


There are three Club House Playsets to collect — featuring main characters Lampo, Milady and Pilou, and the sets are suitable for children aged 3 years and over.
We received the Lampo and Pilou playsets. Pilou has a vanity table complete with mirror and spinning decorative pin wheels. Lampo's guitar shaped alcove has a chair on top that moves by moving the fish on the side of the toy. Both came with a bowl of spaghetti and meatballs. The figures are 3 inches tall and articulated. They also feature an exclusive outfit, not worn in any other set.
Mini Figures
There are 8 single mini figures to collect: Lampo, Milady, Pilou, Meatball, Cosmo, Boss, Lola and Gas. Each figure is 3 inches tall and are articulated so they match with the figures from the playsets above.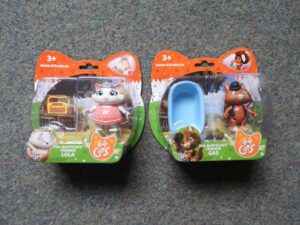 We got Gas and Lola, two of the more peripheral characters. Each comes with an accessory: Lola has a radio as she is a dancing diva whilst Gas has an empty bath, the only type he will tolerate as he hates water (like most cats!)

The mini figures are fun as they are small enough to fit comfortably in a child's hand but also solid enough for lots of play. The range of characters available means kids can re-enact their favourite scenes or create their own storylines for the cute cats.

If you have a 44 Cats fan in your house then these toys will be a firm favourite. I think the plush toy would be a lovely gift for a newborn from an older sibling who loves the show.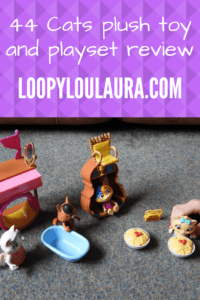 *We were sent these toys for the purpose of this review. All opinions are my own.