My sister has been espousing the joys of Dobble for years but we have only just added it to our games collection for our weekly games night. I was really happy to find that a donation is made to Great Ormond Street Hospital for this edition of the game.
Dobble is a card game where each card has eight symbols. There is only one match of symbols between any pair of cards. The thing that makes it extra tricky is that the symbols vary in size from card to card, and only a set number of colours are used. There are five different mini games to play which all require speed and concentration.
The triple game is fast and furious as you attempt to find three cards with matching symbols. This makes it more tricky but also more fun!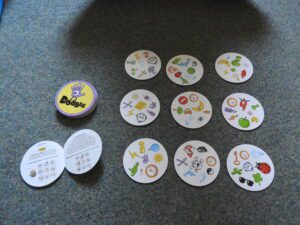 Dobble has an RRP of £10 which is extremely reasonable for the amount of fun it provides for the whole family! It suggests it is suitable for children over 6 and this is due to the level of focus required. The length of each game depend on how quick you are at spotting the matches but should take no longer than 15 minutes.