I am not artistic, or at all capable of recreating designs in art form. We won some face paints in a tombola years ago and they have just been sat in the cupboard.
A few months ago we attended a party for Face Paintoos at Beale Park and had a fab time.
The party pack contains 20 beautifully intricate designs, suitable for both boys and girls but I would suggest that the mermaid and unicorn ones might be slightly more aimed at girls (please don't shout at me for perpetuating gender stereotypes! This is based on my own experience of my children and their friends: my eldest son would instantly reject anything he deems 'girly' but my youngest doesn't care; my daughter varies depending on her feelings at any given time!)
Last time the Face Paintoos were applied by professionals but this time it was down to me! The kit comes with a sponge but you need to provide a bowl and some water.
Begin by cutting out around the chosen design then remove the plastic protective sheet, press and against the skin and soak with water. Hold the piece in place with the sponge for 15 seconds and then carefully remove: completed!
The set of Face Paintoos says ages 4 + and I wondered if that meant children could apply them too. Anya got to work!

I have very sensitive skin, allergies and eczema but was able to try out the design and have it removed without any adverse reaction.
Next it was Matthew's turn and he decided (perhaps unsurprisingly) to have the dragon Face Paintoos applied.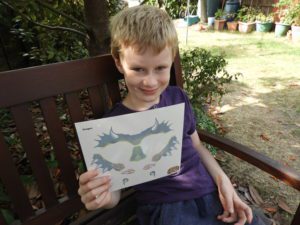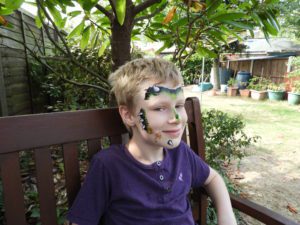 My overall opinion of Face Paintoos is positive. It makes fun designs accessible to children and unskilled adults like me 🙂
The smaller pieces are much easier to apply than the bigger forehead designs. I would advise users to be careful for the first 30 minutes after application as the designs are quite delicate at first and might rub off or tear.
The sets come with special wipes to make removal super easy but there are also alternatives should the wipes dry out or be lost.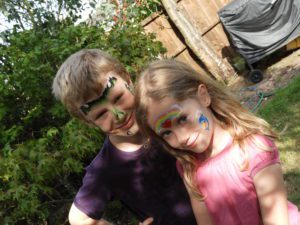 Anya couldn't wait to try another Face Paintoo the next day and went hopping mad as a bunny!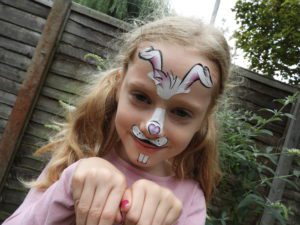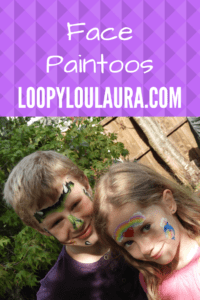 *We received these Face Paintoos for the purpose of this review