AD GIFTED We were sent these toys for the purpose of this review
Are you Team Cat or Team Pickle? Well now you can be both!
Cats Vs Pickles have launched a new reversible range of plush toys that are super cute and cuddly. And they are reversible! One side is a cat (complete with tail) and the other side is a pickle. Time for twice the fun!

We received Kitty Cakes who tranforms into Frosted Flo, and Roboticat morphs into Mech- Pickle! The toys are so soft and I love the cute personalities and designs. Plus Anya and Zach like to use them as puppets while playing, remember kittens not mittens!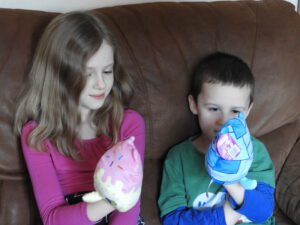 Cats Vs Pickles reversible plush toys are available now from Smyths Toys and other retailers both in store and online. They have an RRP of £11.99.