Yep, that's right, it is that time of year when the clocks change. You get a whole extra hour to entertain the kids!
Why not try Clock It to keep them occupied?

I can't promise you that you will get a lie in though as there is lots of fun to be had with this game and you won't want to miss out on the laughter!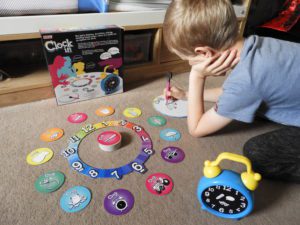 The game is aimed at children 8+ although I am sure that slightly younger children would be able to join in if they have the necessary communicative skills.
You can play collaboratively if there are 2 or 3 of you, or compete in teams if there are more than 4 players.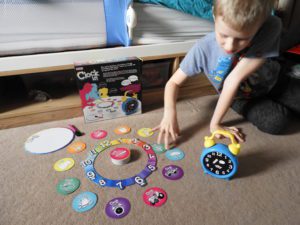 You begin the game by placing the cards around the clock face. The alarm clock will then select a number at random and tell you to describe, mime or draw it. The cards are double sided: one has pictures and the other has words which is what I think makes it suitable for slightly younger players. The clock starts ticking, can you complete the task in time…?
The skill of the game is in the drawing ability, dramatic flair and range of vocabulary necessary to convey seemingly everyday items to your team mate. The challenge comes from being time restricted and respoding quickly to the required method of communication.
In the three pictures above, Matthew is drawing a frog, miming a spider and miming pizza: did you guess?
I really like the way that it can be a competitive or collaborative game. Both are essential life skils to develop so the choice is an excellent feature of the game.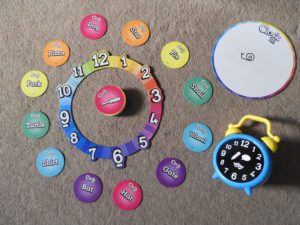 Clock It is from Ideal Games by John Adams and available from various toy retailers.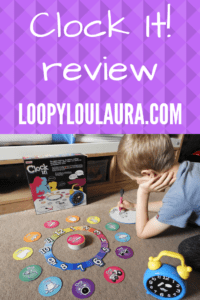 *We were sent this game for the purpose of this review. All opinions expressed are my own