*I was sent this item for the purpose of this review. All opinions and photos are my own.
Stickle Bricks have been entertaining children since 1969! I remember them from my own childhood. We have them in the infant school I work in. And now they are at our home too!
We were kindly sent the Stickle Bricks fun tub to review and here is what we thought:
The box contains lots of brightly coloured and differently shaped and sized pieces. Alongside the standard pieces are wheels, axles and heads! The box itself can rest on the lid for added stability plus it is a great storage option.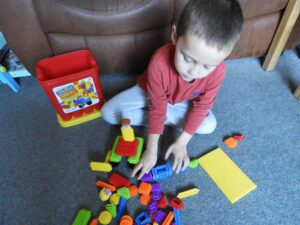 Zach got straight to work creating but he also enjoyed sorting the colours and shapes. I was happy to see purple pieces as it's my favourite colour! There are large and small rectangles, squares, triangles and longer 'sticks' as well as the special pieces mentioned above.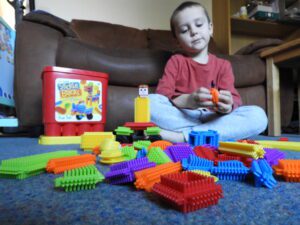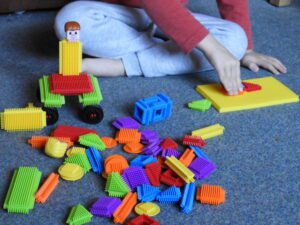 Zach tried to make a self portait sculpture. He should have used red for the body! I thoroughly approved of the second build of a blue and purple striped body 🙂
I attempted a house but Matthew and Anya took over that night and were much more skilled with their designs! My husband was surprised at how well the pieces slotted together and this toy helps with fine motor skills. The pieces are durable and I can easily see this being a toy that will be kept for our own grandchildren!
Stickle Bricks are available from a range of retailers including The Entertainer. The Fun Tub has an RRP of £22 which is great value as the toy will last for years!