Help find the next UK Othello Junior Champion and win the classic Othello game from John Adams!
Are you an Othello Champion? Do you know an Othello Champion? You could become one!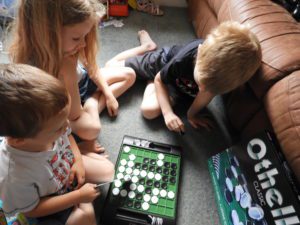 Othello takes a minute to learn and a lifetime to master! The object is to trap and capture your opponent by placing your disks on the board. The lead can change with the flip of a disk in this classic fast-paced strategy game.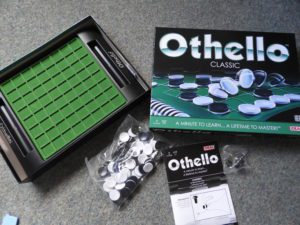 Othello is a brilliant board game. It is an old classic but one we as a family have never owned before. I have played a version of it on my Nintendo DS about a decade ago but have never actually played it against a real person before.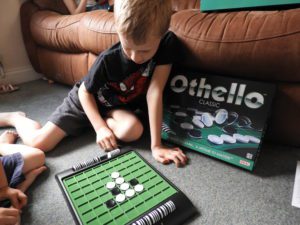 The strategy is simple. Enclose rows of counters with your own to take posession of them. It literally takes minutes to understand but a more strategic game play takes longer to develop.
All 3 of my children understood the rules quickly and easily, unleashing the competitive side in an instant!. Even Zach understood the concept but was unsure how to place his counter without support.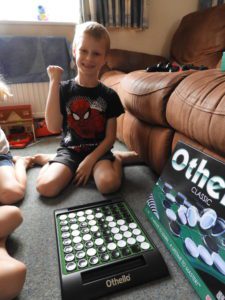 On the 21st September is the UK's Junior Othello Championship which is held in Cambridge. It is open to children under the age of 15 and the winner of the UK event will win an all-expenses-paid trip to the World Championships which are being held in October in Hong Kong.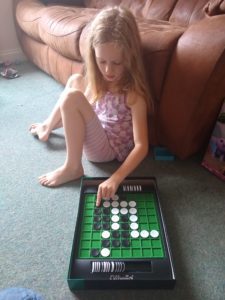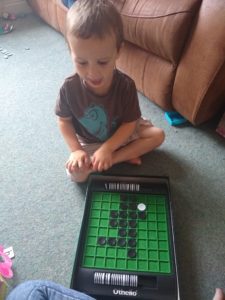 If you fancy entering the UK Champs then you can download the info and entry form here!
Othello is available to buy from all good toy stores. For stockist information, visit www.johnadams.co.uk.
Giveaway time!
Prize package: 1 winner and the prize wil be sent directly to the winner by the PR company:
1 x Othello Classic (22.99)
I am giving away an Othello Classic game to celebrate the forthcoming UK Junior Othello Championship. You don't need to be an Othello buff to enter my competition but if you also fancy entering the UK Champs then you can download the info and entry form here!