At the Blog On conference in May I discovered Simbrix, a new toy designed in the UK which allows children to use their construction and artistic talents.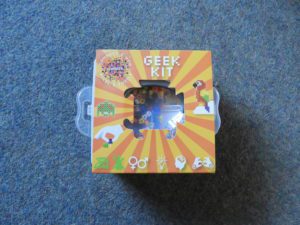 I thought that Simbrix would be a perfect way to unwind and relax after a busy school day and I was right!
The Geek Kit we were sent has 2 packs of Simbrix in a wide variety of colours. The set contains a pack of cards with design inspiration. The box can be used as a storage container while you are playing or could be used as a flat surface to make your design on.
Matthew got straight on with creating his own dinosaur design and I was impressed at how quickly and easily he was able to visualise and then construct it.
He then went on to create a Godzilla design as well. I was really impressed by his independence and design capability.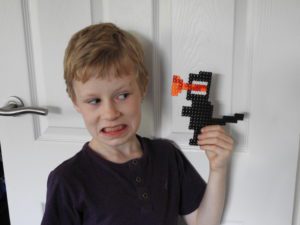 Simbrix is aimed at ages 6 plus as they are slightly fiddly due to their small size. Anya got a little frustrated with her design as she didn't quite appreciate that you have to get all of the Simbrix in the same orientation to ensure they slot together.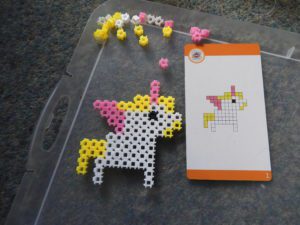 Another word of warning: be careful around small children: as well as a choking hazard, Zach decided to distribute Simbrix all over the floor!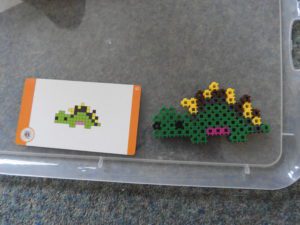 We had great fun playing and creating with Simbrix (yep, I had a go too!) It is a great way to work on children's creativity and construction ability while also allowing them a chance to work on their motor skills.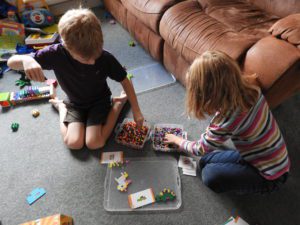 As a parent, I enjoyed the children having an activity that did not need lots of supervision and certainly no ironing or water required. Due to the way the Simbrix slot together, the designs are quite sturdy and don't break up easily so the children can play with their finished creations.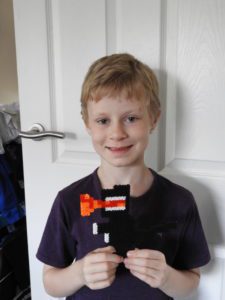 *I received the Simbrix set for the purpose of this review