I'll be perfectly honest that I am not the biggest fan of goo/slime/putty. The kids LOVE it! Which is why the neon orange science putty Matthew has is now a rather repulsive brown colour and we have stains on bedding and carpets 🙁
Glam Goo offers an exciting alternative to normal putty or slime: you make it into fashion accessories!
I was sent the Fantasy Pack and the Deluxe pack to try out. Each set contains clear slime and then a range of shimmer powders, scents and glitter or sparkles. The instructions are very straightforward and they offer suggestions for combinations or you can make up your own concoction.
We used a plastic tray to work on as the Glam Goo is very gooey (there is a tip for making it less so but we decided to keep it as it was) plus Anya was a little heavy handed with the glitter (as you can see from the video!)
Overall I was really impressed by the sets. I loved the way goo has become feminine and actually has a purpose. Children having the freedom to create their own combinations releases the imagination and allows them to develop their own tastes and ideas. Here is Anya's finished necklace and she is already deciding on her next mix of colours for the ring in the Deluxe set.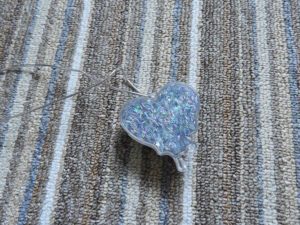 I have a Deluxe Set to give away to one lucky person! Enter below for your chance to win:
*I was sent these two Glam Goo sets for the purpose of this review. All photos, video and opinions are my own. The competition is open to UK residents only and the prize will be sent from the PR company.