Anya loves animals so the new range of Vet Squad toys is perfect for unleashing her caring side as well as having the thrill of an animal rescue!
We were sent a range of toys to review, including vets, pets, vehicles and wild animals.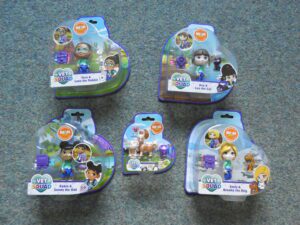 There are four vet characters: Ava, Robin, Emily and Yara.  I really liked the range of ethnic backgrounds chosen for the vets and hope they extend this and include some male characters.

I was pleasantly surprised by the range of articulation in the vet figures' arms and legs although they were quite head heavy so fall over easily.

The Vet Squad tend to a variety of domestic and wild animals and their injuries, using bandages, collars and good old fashioned cleaning with water.
I liked the detail on the vet and pet assortment as all of the backpacks were unique and had different accessories.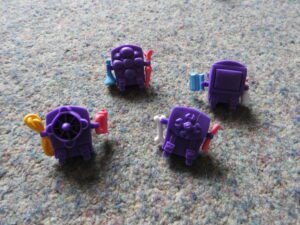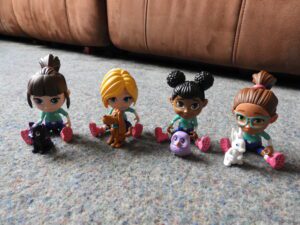 The vet and vehicle sets create lots of play potential as you can imagine danger which necessitates rescue via boat, helicopter or car. There are little details on these vehicles which I thought were nice additions including the computer kits and seat belts.
Most of the sets came with a bucket and sponge. The animals have an injury that can be tended to with the sponge and a little water to make it disappear, and then a bandage or plaster can be applied.

These toys are suitable for ages 3 and up but do be aware that they have small pieces (younger children could put in mouths, pieces easy to lose).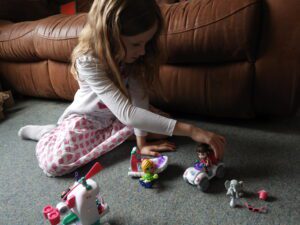 There is also the real life support that Vet Squad is giving to our animals and planet in the form of a donation to the charity Sea Life Trust. This will support essential work to protect our endangered marine species around the world.
Overall, I was impressed by the quality and detail of the Vet Squad toys. The charity angle definitely impresses me but, as a mum, seeing my daughter happily playing for hours is just wonderful.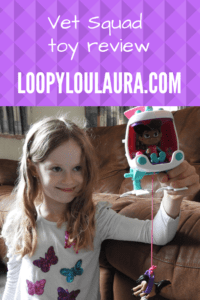 *We were sent these toys for the purpose of this review