Why was 6 scared? Because 7 ate 9!
7 8 9, get it?! It is a classic joke which my kids love.
I was recently invited to Eclectic Games in Reading to meet a game designing legend, Maureen Hiron. Her latest game is 7 ate 9 but her career designing family games stretches back to 1982 and the creation on Continuo.
Maureen was an absolute delight to meet and the only thing better than playing her games was playing them whilst chatting to her and finding out about her interesting and varied life experiences.
As well as designing games, she is a dedicated bridge player, once managed Boney M and writes her own music. She is passionate about designing games that the whole family can enjoy with rules that are simple to follow and not overly time consuming to play (she knows about kids' short attention spans!)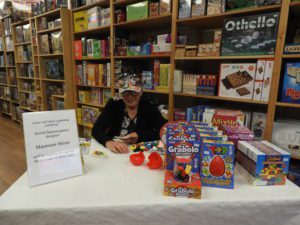 Time to have a go at playing 7 ate 9 ourselves. Just as Maureen claimed, the rules are easy to follow so even Zach had a go!
Each player has half of the cards, the instructions don't specify how many to hold in your hand but I found 5 to be manageable. A card is placed in the middle which has a number and then plus or minus another. For example, 5 +/- 1 so all payers check to see if they have a 4 or 6 in threir hand. Any player that has that one of those numbers can put it on top. The game is quite fast and furious!

The use of bright bold colours makes the game eye catching and I think it help to hold children's interest. The concept of simple adding and subtracting is easy to understand and really works those number skills (perfect for kids to help them feel secure in Maths).
I would suggest that the game works best with children of similar reasoning speed as Anya was at a disadvantage against Matthew as he was more confident with his numbers. We got around this by having me shout out the numbers that could be used so it was then a focus on speed rather than speed and number skill combined. As she gets older I think Anya will find it easier to compete properly.
It was genuinely fascinating and lovely to meet Maureen and I look forward to seeing what the new game she had secreted in her handbag turns out to be…
For your chance to win your own 7 ate 9 game, enter via the widget below: