Zach is currently going through a Peppa Pig stage. My older two have already been through it and are enjoying the chance to snort and play with their little brother.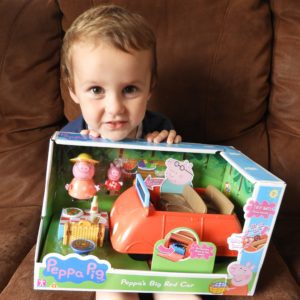 For parents who have not yet got to this stage, Peppa Pig is actually quite a hilarious TV show (seriously, watch the Masks episode which beautifully demonstrates the evilness of glitter and every normal parent's reation to it. Or the school project episode…) The creators and writers have been so clever to have little adult jokes in the show to make sure that parents enjoy it too!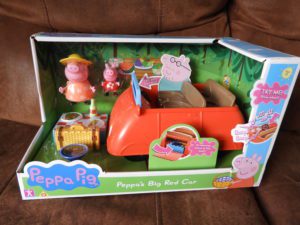 Children love Peppa Pig because she experiences normal childhood events and our own kids find out about them so gain confidence when faced with the same things.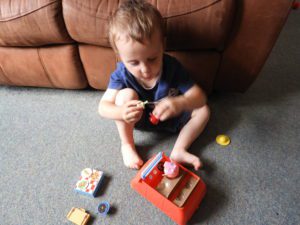 Matthew and Anya both have some Peppa Pig toys but Zach was thrilled to receive Peppa's big red car set which includes a picnic. This is great for role play. My children have lots of experience of going for picnics and drives with mum but never combined together so it opens up familiar experiences with new opportunities.

Mummy and Peppa are dressed especially for their picnic outing and Mummy's hat can be removed then put back on when the sun shines!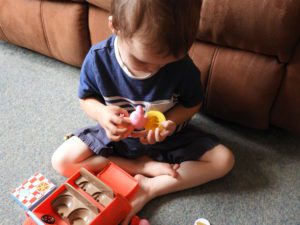 The car is chunky so easy for small hands to push around. It also has sound effects when you press the steering wheel (requires 2 AAA batteries which are included!) The seats in the car have been carefully designed to hold the figures upright.
Having two characters included in the set allows children to play by themselves or with their siblings or friends. I caught Matt playing with it too!

Fantastic for parents is that the little picnic bits can all be packed away in the boot. Your child can role play packing the car and you get a tidy floor too!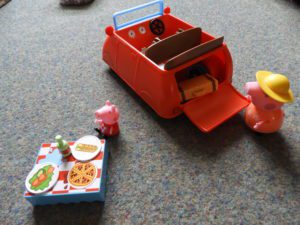 Peppa's Big Red Car is available from Smyth's Toys rrp £24.99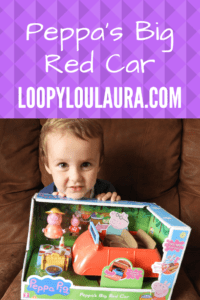 *We were sent this toy for the purpose of this review