We were sent a box from The Irish Fairy Door Company with a surprise for Matthew and Anya inside (and Zach when he is old enough!). Please watch our unboxing video and review.
Anya received a fairy in door in pink and Matthew was given a worry plaque. There was also a car air freshener which Anya commandeered for their bedroom!
The pink fairy door box contained a welcome guide, a lease agreement, a magic key, a note pad, some stepping stones and of course a beautiful pink door complete with flower detail.
       
We read the Fairy Welcome Guide together and then chose a name for Anya's fairy: she chose Rosie. We set the fairy door up in the spare room so that Zach and Ollie the Collie wouldn't disturb the fairy. Anya wrote a little note to welcome Rosie and placed it next to the key.

We went downstairs to register our fairy on The Irish Fairy Door Company website as instructed in the guide/on the box. Now we will receive updates with fairy stories and activities to keep the magic alive.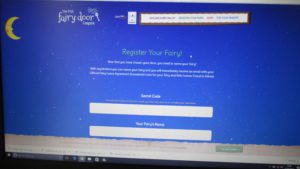 Just 2 hours later we had our fairy, she couldn't wait to join us! The key and note had gone…

It was really sweet: my mum came over and Anya ran upstairs to show her the set up and I'd already been in so my mum got to share the 'magic'. Anya was full of excitement to tell Matthew about it when he got home from school and they spent ages finding toys and books to put near the door for Rosie.
The following day I opened the worry plaque with Matthew.
  
I had sneaked batteries in the day before so we were ready for the magic to begin. Please watch the video of us trying it for the first time
The car air freshener was a lovely surprise. We have attached it to the children's bunk bed and they love it! The smell is beautiful, fruity berries. My mum visited and could smell it straight away and complimented me on my fresh smelling house!

The Irish Fairy Door Company has really given careful consideration to the wonder of childhood and these would make a really thoughtful gift for a child. The pink fairy door is available for £20 and comes in a variety of colours: you can even paint your own!. The worry plaque sells at £29.99. They work really well together as the fairy door sets up the worry plaque to be successful.
We received these items free for the purpose of this review. All opinions are my own.