I love shortbread and make it about once a month. I haven't tried to make millionaire's shortbread before though! I wanted a quick version and this one uses ready made caramel. If you are creative and artistic you could swirl white and milk/dark chocolate, but I'm not so I haven't (the end appearance was due to necessity and panic on this occasion)!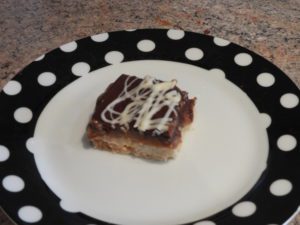 Ingredients
150g plain flour
50g caster sugar
100g butter
397g tin caramel
150g chocolate (there are 2 types of chocolate in my photo as when I got to the cupboard I found I didn't have enough milk chocolate so had to add the white as well, then it all went hideously wrong and I ended up using Nutella!)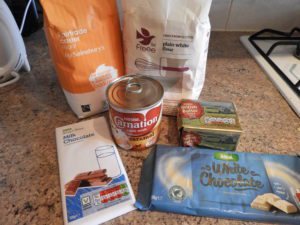 Method
Combine the flour and sugar. Rub the butter in. It doesn't need to be as finely done as when you make pastry 🙂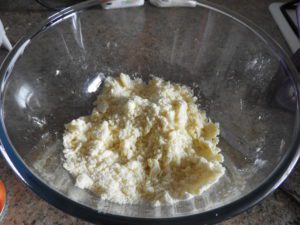 Press into tin (I used 20cm square tin) and bake for 30 minutes GM4.
Leave to cool in the tin.
When the shortbread is cool, spread the caramel over the top and chill for 30 minutes.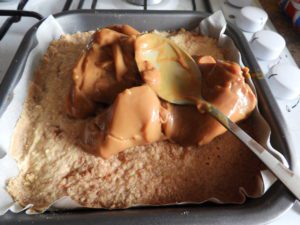 Melt the chocolate (in the microwave in bursts of 10 seconds or in a bowl over a simmering saucepan)
(This went wrong for me: the milk chocolate didn't melt! so I kept the white chocolate and used Nutella, in hindsight I don't know why I didn't just use white chocolate as I had enough in the first place!)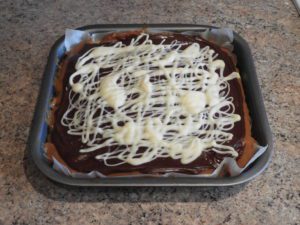 Spread over the top and leave to set.
Cut into squares and enjoy!