The big day has come and gone. So did it love up to our expectations…?
There was a lot of hanging around in the morning. 12 noon was the earliest we could have the ceremony but the morning really dragged, especially as the kids woke me up at around 6am!
I felt nervous rather than excited. Chris and I didn't see each other before the wedding but we were in contact via Facebook so that we could coordinate last minute bits and bobs.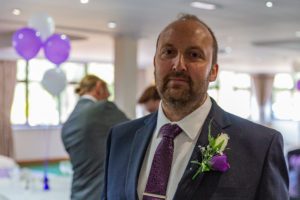 As you can see, I opted for an ivory white dress in the end as I wanted to be more traditional and stand out as the bride! The dress was actually from JJ's House but not the one I'd reviewed earlier in the year. I picked my tiara at the last minute from the 4 I'd bought and had to borrow a necklace from my sister as I'd left mine at home.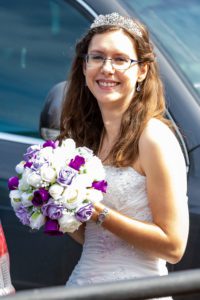 My mum and dad left their house way earlier than I anticipated. The bit I love at weddings is catching up with family so it was a bit sad to have to be the last to arrive!
The traffic was better than I imagined and I arrived much earlier than I expected so was sat in the car for about 10 minutes. I drove myself, my soon to be mother in law and the kids, so slightly unconventional 🙂
I had planned how I wanted us to walk down the aisle but Zach woke up grumpy from his nap in the car and refused to cooperate. My sister ended up having to carry him!
Walking down the aisle, I had to tell my dad to slow down. It was all going by so fast and I didn't have time to see our guests. The ceremony whizzed by: I'd expected it to be about half an hour but it was over within 15-20 minutes.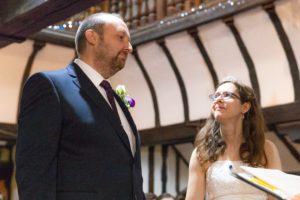 We loved signing the fake register. It is illegal to get photos of the actual signing so there is a fake book with funny names and occupations (such as Robin Banks, a police officer) which kept us entertained.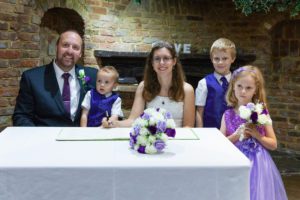 We were handed a glass of prosecco as we left (I love Anya's face in the pic!) and then we were able to meet our guests as husband and wife! It was lovely to chat to family and meet more of Chris' relatives. We had some photos taken straightaway but had the majority after lunch (I knew better than to keep my kids waiting for grub!)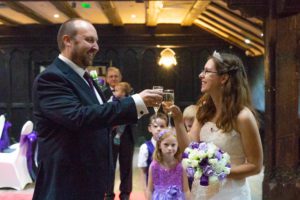 At the last minute my dad had been roped in to do a toast and introduce my speech. I had only written in about 24 hours beforehand: I thought that as I write everyday it would be easy but IT WASN'T!
I had organised the wedding cake with my mother in law and the Lego decoration was supposed to be a surprise for Chris but he saw it be delivered which saddened me a little. The cutting of the cake left us a little bit worried as we didn't know how long to pose and when to actually cut. Chris was worried about damaging the ribbon.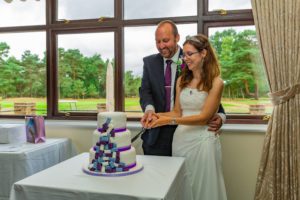 We weren't having an evening reception and had opted for an afternoon tea instead which fitted in with the relaxed nature of the day. Everyone went home by 7, leaving me and Chris to deal with Zach's stinky nappy without his changing bag (it had been left at home!), squashed in a toilet in our wedding outfits!
I can honestly say that it was the happiest day of my life that didn't involve giving birth 😀 and I can't wait to spend the rest of my life with Chris.
Finally, a massive thank you to David Cleary Photography for our amazing wedding photos (over 1000!). You went above and beyond our expectations!