You might have spotted that we got married at the weekend! I haven't quite got my head around it yet so instead this post is about the tradition of the bride's garter and a sneak peek of my own!
The modern garter tradition actually coincides with that of the throwing of the bouquet but originally it was thought to be lucky to grab some of the bride's clothing and rip it off! This then developed into the bride wearing something she could give away quickly and easily to protect her outfit.
Added to this was the intimacy of the garter being representative of the consummation of the marriage so the groom would remove the garter to represent undressing ready for the wedding night.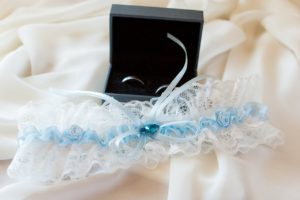 Today it is usually the groom that removes the garter and then he is supposed to throw it to the men at the reception after the bride has thrown her bouquet. The man who catches the garter is meant to place it on the leg of the woman who catches the bouquet. They are believed to be the next to get married but not necessarily to each other!
I made my own garter for my wedding. I'd bought a kit from Aldi but left it to the last minute (less than 48 hours before the ceremony!)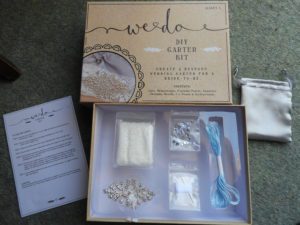 I was a bit surprised to find it required the use of a hot glue gun as I have never used one before. I had a go but burnt the lace a little so that attached the other gems with super glue!

The main jewel patch was easy to sew on and I then added our initials using blue thread
('

something blue

').

There was actually enough lace and small gems to make 2 garters so I will keep the rest for Anya…