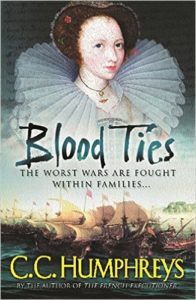 I bought this book having read the original 'The French Executioner' and loving it, mainly because of the Tudor aspect of it.
Move forward about 7 years and I can't remember it at all 🙁 The author's note at the start says it is a stand alone novel referring to events in the first book but not relying on them for this to make sense.
I confess I found this book hard to get into as it was straight in with the action, lots of fights. I think if I could remember the characters it would have helped. It took a few chapters to get into the story, maybe about 50 pages before the plot of the story fully began in earnest. Then I couldn't put it down!
The story moves through Renaissance Europe and then moves to Canada. It inspired me to find out more about the native people that the characters encounter, which is surely the mark of a good book to make you want to know more.
I found the plot thoroughly absorbing as Jean Rombaud the main character from the first book is forced to search for the hand of Anne Boleyn that he removed and rescued previously. Now his own son has joined the hunt to use the hand to discredit Princess Elizabeth (the future Elizabeth I). The novel is set 19 years after the events in the first book so the dynamic between the characters is interesting as time has passed and relationships developed without us.
The thing I most disliked about this book was the violence which is some places was quite graphic or was deliberately vague so for a few chapters I wasn't sure what was happening. I think this was a device for conveying the confusion felt by the characters caught in the fights/chase.
This author has written several other books from different historical periods but I'm not sure that I'm as interested in these areas of history so whether I would read them with the same enjoyment. He has written one called 'Plague' set in 1665 so I might give this a go… 🙂
[amazon_link asins='0752848305,0752842773,B00J4SO43I' template='ProductCarousel' store='tiredmummyblog-21′ marketplace='UK' link_id='ee1d5f45-1144-11e7-9bdd-4db283682695′]