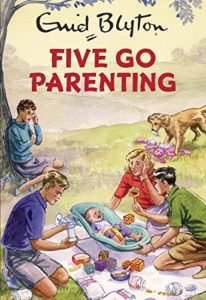 I have to confess that I have never read any of the Famous Five. I was an avid fan of the 5 Find-outters 'Mystery of…' books so I know Blyton's style.
So Mr Vincent, congratulations: imitation is the sincerest form of flattery. This was a good idea, brilliantly executed.
Yes, it was pushing the realms of possibility but it was fun and fresh. As a parent I could identify with many of the incidents in the book and laughed out loud several times which really annoyed Chris. My favourite line is the description of parenthood as a 'trudging, illogical gulag' (page 41)!
The inclusion of genuine pictures form the Famous Five original books was clever although they obviously didn't fit perfectly with the text and were slightly randomly placed within the book. This was quick to read which suits busy parents and the style of writing was similar to what I remember.
Perfect for any parent with a sense of humour or nostalgia for Blyton's originals.
[amazon_link asins='1786482282,178648224X,1786482223,1786482266,1786486865,178648384X' template='ProductCarousel' store='tiredmummyblog-21′ marketplace='UK' link_id='1137bddc-1149-11e7-9441-6dab86ab95d8′]