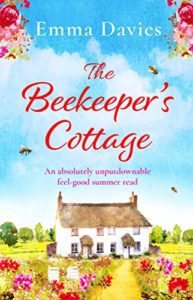 We return to the English countryside which featured in Emma Davies' previous book The House at Hope Corner, and are reunited with Flora and Ned who have successfully established the flower farm. They are expecting students to arrive and help them for the summer but are disappointed when the students let them down at the last minute.
Amos Fry arrives searching for somewhere to stay in exchange for work. He lives a nomadic lifestyle, travelling from place to place and helping other people to find the peace which eludes Amos himself.
Grace lives near by and is in an unhappy marriage to celebrity Paul. She has reached the limits of her tolerance after discovering yet another affair and demands a divorce. Paul retaliates by beginning the process to sell her beloved home and separate Grace from her bees.
Can Amos rebuild hope as well as the farm buildings or will his own secrets get in the way?
This was a lovely book. It was great to catch up with the characters from the last book and see that their angst and hard work had paid off. New characters Amos and Grace are instantly likeable, making their problems more engaging. I had no idea what Amos could be hiding and the reveal is so sad.
The ending of The Beekeeper's Cottage was a little saccharine and twee for me. I wanted Grace to come out fighting against her ex, and whilst she did stand up to him, I thought she should have been stronger.
It was interesting to find out more about bees and Emma Davies clearly evokes an English summer through her descriptions making it a fab read to enjoy in your garden in the sun!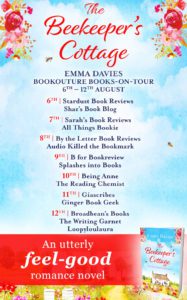 Title:  The Beekeeper's Cottage 
Publication Day: 06/08/2019
Author:   Emma Davies
Buy  Links:  
Description:
Comforted by the gentle hum of the beehives at the bottom of the garden, Grace drains the last of her tea and walks slowly back towards the little hillside house she adores. Her marriage is over, but is it too late to start her life again?
Beekeeper Grace thought throwing out her cheating husband would be the hardest thing she ever did. But when she opens the door to a property developer one morning, it's clear that keeping her beautiful home and garden – her only sanctuary throughout her miserable marriage – will be the greatest challenge of all…
Fleeing to her best friend at the farm next door, Grace blurts out all her problems, only to be overheard by Amos, a handsome, free-spirited visitor with a twinkle in his eye. Fascinated by Grace and her bees, Amos offers to stay in the village of Hope Corner, to help turn her home into a guest house in return for lessons on beekeeping.
As Grace shows Amos how to nurture a hive and harvest honeycomb without getting stung, he is charming but secretive. He never stays long in the same place after an incident in his past involving a mysterious woman named Maria. But as their eyes lock over a jar of homemade honey, Grace can't help feeling that she'd really like him to stay…
Determined to dispel her growing suspicion that Amos is running from something serious, Grace goes in search of the truth about Maria. But when she finds it, will she still want Amos to put down roots in Hope Corner, and will they still have a house to return to? 
No matter how far they travel, bees will always find their way home…
An absolutely perfect feel good romance for readers who adore Jenny Colgan, Lucy Diamond and Debbie Johnson.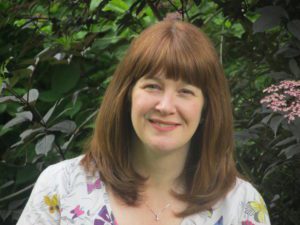 Author Bio:
After a varied career, Emma Davies once worked for a design studio where she was asked to provide a fun and humorous (and not necessarily true) anecdote for their website. She wrote the following: 'I am a bestselling novelist currently masquerading as a thirty something mother of three.' Well the job in the design studio didn't work out but she's now a forty something mother of three and is happy to report the rest of her dream came true.
After many years as a finance manager she now writes full time and is far happier playing with words than numbers. She lives with her husband, three children, and two guinea pigs in rural Shropshire where she writes in all the gaps in between real life. It's a county she adores, her love of its beautiful people and landscapes providing endless inspiration for her books, and in fact the only thing that would make Shropshire more idyllic is if it were by the sea.
Author Social Media Links:
Pop over to her website www.emmadaviesauthor.com where, amongst other things, you can read about her passion for Pringles and singing loudly in the car. You can also wave to her on twitter @EmDaviesAuthor https://twitter.com/EmDaviesAuthor or find her on Facebook (a little too often than is good for her):https://www.facebook.com/emmadaviesauthor/