Caterer Fran Eve creates culinary delights for a murder mystery birthday party. But weeks later the pretend victim is actually dead due to poison. Adam, the son of the birthday party host, is worried that his mum will be accused of murder. He calls on Fran based on a chance encounter on the night of the party. Can the pair find the killer?
Death In Disguise is a cosy murder mystery and the beginning of a new series to feature Adam and Mrs Eve.
One of the party is guests is murdered shortly afterwards and Fran agrees to help find out who could be responsible. I suspended my disbelief a little and got on with enjoying the developing investigation.
Fran and Adam make an interesting team. They are an unusual pair and very down to earth. There is humour in their dialogue as well as some situations they end up in (like trapped in a shed and a knowledge of lock picking). I especially liked Adam's quirky revelations and how Fran reacts to them.
There is little violence and no graphic descriptions of the murder which we only learn about after it has happened. Fran and Adam focus their investigation on the other guests and it soon becomes clear that there are a host of suspects and motives that could have led to Becky's death.
Death in Disguise is a very enjoyable murder mystery and I look forward to reading the next book in the series.

MEDIA PACK
Book: Death in Disguise 
Author: Emma Davies
Pub Day: Feb 9th 2022
About the Book: 
Francesca Eve thought she was prepared for anything at the events she caters for in her pretty little Shropshire village. Missing canapes? No problem. Burnt brownies? A piece of cake… But a dead body? Now that's a recipe for disaster.
Francesca is nervous about catering her first ever murder mystery party, but it's clear from the clink of champagne flutes and piles of empty plates that the evening is a roaring success. The guests look spectacular in their disguises, whispering and giggling as they try to identify who killed beautiful young Becky. But days later the game takes a sinister turn when Becky is found poisoned, and all the signs point to the culprit being a party guest.
From the woman having an affair to the guest hiding her true identity, everyone had a secret – and it turns out that Becky knew them all. As Fran finds herself centre-stage in a real-life murder mystery, the finger of suspicion points at each guest in turn. And Fran starts to wonder, were any of these secrets dangerous enough to kill for?
Then the body of a second guest is found, and it becomes clear a deranged killer is going off-script. It seems anyone who was involved in the game that night is in their sights, even Fran. Can she unmask the murderer before the final curtain falls?
A page-turning cozy mystery packed with twists. If you love Clare Chase, M.C. Beaton and The Thursday Murder Club you'll absolutely adore this unputdownable whodunnit.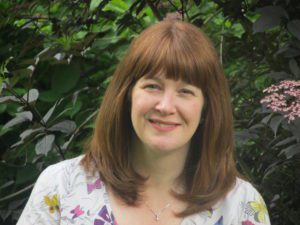 Author Bio
After a varied career, Emma Davies once worked for a design studio where she was asked to provide a fun and humorous (and not necessarily true) anecdote for their website. She wrote the following: 'I am a bestselling novelist currently masquerading as a thirty something mother of three.' Well the job in the design studio didn't work out but she's now a forty something mother of three and is happy to report the rest of her dream came true.
After many years as a finance manager she now writes full time, and is far happier playing with words than numbers. She lives with her husband, three children, and two guinea pigs in rural Shropshire where she writes in all the gaps in between real life. It's a county she adores, her love of its beautiful people and landscapes providing endless inspiration for her books, and in fact the only thing that would make Shropshire more idyllic is if it were by the sea.
Pop over to her website www.emmadaviesauthor.com where, amongst other things, you can read about her passion for Pringles and singing loudly in the car. You can also wave to her on twitter @EmDaviesAuthor or find her on Facebook (a little too often than is good for her).

Social Media