Less than 2 months until Christmas and I was put firmly in the festive mood with this book from Emma Davies. It is the fourth book in the Little Cottage series but I haven't read any of the previous novels although this did not affect my enjoyment of this book which works as a stand alone novel.
The plot revolves around a wedding: will the snow cause problems for the happy couple? There is a strong community feeling from this book and the village life is central to the development of the plot and characters.
Into this community comes Ruby, a woman struggling to deal with the breakdown of her relationship and desperate to escape her past for the sake of her children. She strikes up a friendship with Angus but her own insecurities threaten to destroy their blossoming relationship…
The community embraces Ruby and get her involved in the wedding preparations. This gives her a purpose and inspires her to believe in herself and follow her dream.
This is a feel good book but it really struck a chord with me as a single mother trying to trust and love again so there is a deeper emotional side to the book that I wasn't expecting.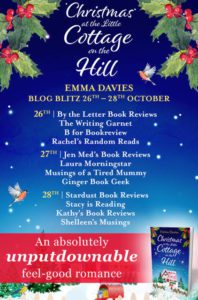 Book information:
Christmas at the Little Cottage on the Hill (The Little Cottage Series Book 4) by Emma Davies
One twinkling winter's night, Ruby wakes her sleeping children and escapes for a new life in the countryside. It's a choice that will change her life beyond all recognition…
Arriving at the cosy little rental cottage as the first snow begins to fall, Ruby doesn't regret leaving her bully of a husband for a moment, but she does feel guilty about uprooting her kids so close to Christmas. She can only wish that one day soon her son will forgive her.
It's not long before the family are settled in and drinking hot chocolate by the fire, the flames kept roaring by a neighbouring woodsman called Angus. As big as a tree, but as gentle as a dormouse, all Ruby's instincts tell her to be wary of letting this gorgeous stranger get too close. Is that the first tingle of festive magic Ruby can feel? Or might it even be hope?
As Christmas day approaches and a blizzard sparks a power cut across the entire village, Ruby must force herself to believe in Christmas miracles again. Was she right to put her trust in Angus? With only flickering candles to guide her through the darkness, will she ever find her way back to the light? 
Wrap yourself up in this utterly gorgeous festive romance, perfect for anyone who loves Heidi Swan, Jenny Colgan, Lucy Diamond – and Christmas! 
About the author:

After a varied career, Emma Davies once worked for a design studio where she was asked to provide a fun and humorous (and not necessarily true) anecdote for their website. She wrote the following: 'I am a bestselling novelist currently masquerading as a thirty something mother of three.' Well the job in the design studio didn't work out but she's now a forty something mother of three and is happy to report the rest of her dream came true.
After many years as a finance manager she now writes full time, and is far happier playing with words than numbers. She lives with her husband, three children, and two guinea pigs in rural Shropshire where she writes in all the gaps in between real life. It's a county she adores, her love of its beautiful people and landscapes providing endless inspiration for her books, and in fact the only thing that would make Shropshire more idyllic is if it were by the sea.
Pop over to her website www.emmadaviesauthor.com where, amongst other things, you can read about her passion for Pringles and singing loudly in the car. You can also wave to her on twitter @EmDaviesAuthor or find her on Facebook (a little too often than is good for her)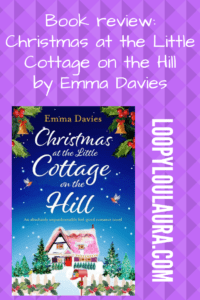 [amazon_link asins='B07G2GPNTL,B07DHVJX33,B07B53K9LH,B077ZBQZLZ' template='ProductCarousel' store='tiredmummyblog-21′ marketplace='UK' link_id='9a0d4728-d95c-11e8-a0ac-3b5ecc06d920′]