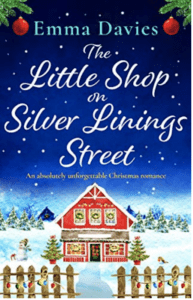 Daisy lives a simple life despite working in an extravagant jewellery shop. She loves the heartwarming love stories that customers bring to her and in return encourages them to buy with their heart rather than to make a profit.
Eccentric owner, Bea announces her retirement and sets her 3 sons the challenge of finding Daisy the perfect piece of jewellery and the winner will inherit the shop. All of the brothers are horrified, as is poor Daisy!
She spends time with each of the brother as they attempt to find out more about her in order to discover her preferences. She also makes discoveries about the brothers and herself in the process.
Daisy reveals an artistic side and develops her passion for designing her own jewellery with a personal touch which is a far cry from the ostentatious gems available at the shop she works in.
In the midst of this is a fledgling romance…
The Little Shop on Silver Linings Street is a beautiful feel-good Christmas book. There is an appropriate festive message about appreciating the value of things and not being materialistic, about the thought behind a gift not the price tag.
I was expecting events to turn out the way they did but the journey to the ending was beautifully written and emotional. Daisy's past is hinted at throughout the book but when she reveals the truth I'm sure it will bring a lump to your throat :'( We also get reunited with Grace and Amos, Flora and Ned from the previous books in the series which is a nice touch.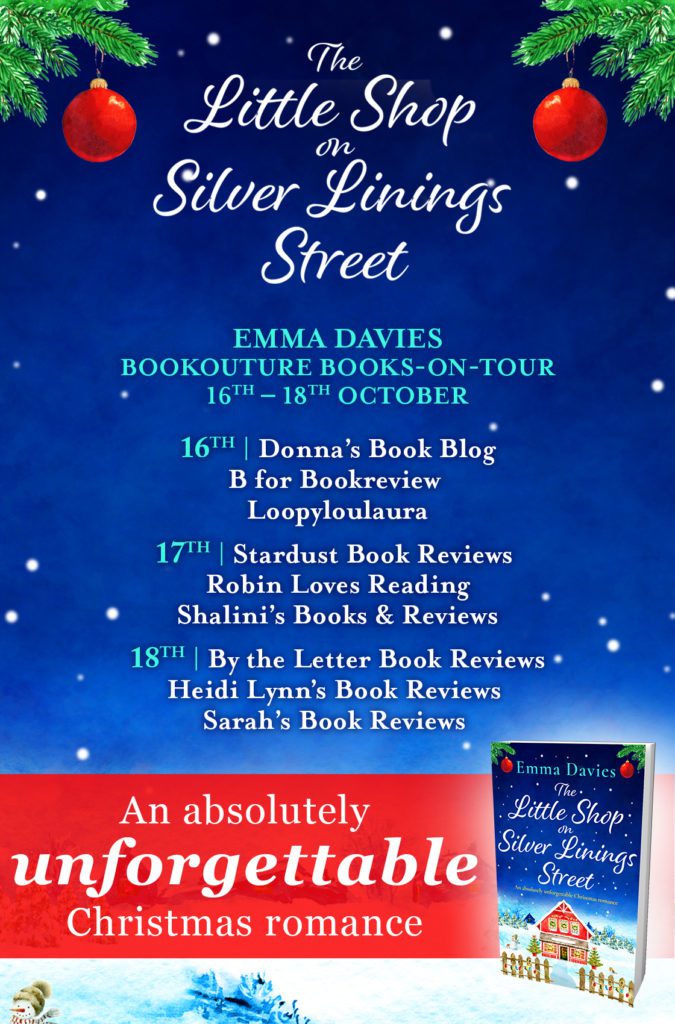 Title:  The Little Shop on Silver Linings Street
Publication Day: 16/10/2019
Author:   Emma Davies
Buy  Links:      
Description:
Daisy Turner has worked at Buchanan's Family Jewellers since the day she finally escaped her troubled home. With a unique talent for matching the perfect piece of jewellery to any romantic milestone, she painstakingly polishes each stunning creation every morning and safely locks them away each night, longing for the day she'll have a love story to call her own…
But everything changes one day in December when the owner announces she is retiring. She will leave the shop to whichever of her three sons creates the perfect piece of Christmas jewellery for Daisy.
In danger of losing the job that once saved her, Daisy is catapulted out of her comfort zone as each of the brothers sweeps her off her feet to find out what her heart truly desires. Between ice-skating, starlight shopping and cosy candle-lit dinners, it's only handsome and guarded youngest brother Kit who really seems to be listening. Because Daisy has a secret. Every night, when the shop closes, she lays out her tools in neat rows and creates sparkling designs of her own…
As Christmas Day approaches, Daisy's growing feelings for Kit fill her with a con
fidence she never knew she had. But as the brothers present their elaborate gemstone masterpieces, she's in for the shock of her life… Was Kit using her to get ahead in the competition all along? Or has he truly worked out the one thing she has always longed for?
They say all good things come in small packages, but the best things don't need wrapping at all…
Snuggle up with this absolutely heart-warming Christmas read and find a warm spot by the fire. An unputdownable festive treat for lovers of Jenny Colgan, Lucy Diamond and Debbie Johnson.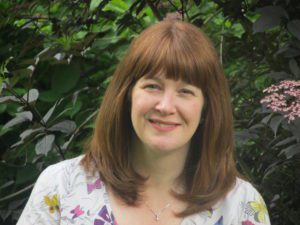 Author Bio:
After a varied career, Emma Davies once worked for a design studio where she was asked to provide a fun and humorous (and not necessarily true) anecdote for their website. She wrote the following: 'I am a bestselling novelist currently masquerading as a thirty something mother of three.' Well the job in the design studio didn't work out but she's now a forty something mother of three and is happy to report the rest of her dream came true.
After many years as a finance manager she now writes full time and is far happier playing with words than numbers. She lives with her husband, three children, and two guinea pigs in rural Shropshire where she writes in all the gaps in between real life. It's a county she adores, her love of its beautiful people and landscapes providing endless inspiration for her books, and in fact the only thing that would make Shropshire more idyllic is if it were by the sea.
Author Social Media Links:
Pop over to her website www.emmadaviesauthor.com where, amongst other things, you can read about her passion for Pringles and singing loudly in the car. You can also wave to her on twitter @EmDaviesAuthor / https://twitter.com/EmDaviesAuthor or find her on Facebook (a little too often than is good for her): https://www.facebook.com/emmadaviesauthor/