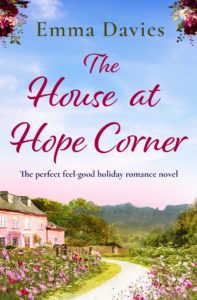 After a whirlwind romance, Flora heads to Ned's family farm The House at Hope Corner to begin their new life together. But neither she nor Ned or his family are prepared for the upheavals this massive change will have on their lives.
I really felt like I identified with Flora. I had an ex who lived in the country and I was a vegetarian. I really didn't fit in. Luckily Flora has the support of her fiance Ned.
Equally I can imagine the frustration of having someone come into your home when you have set routines and ways of doing things as we often have my mother in law to stay. Plus when we got to stay with her, I want to be helpful but not get in the way.
I loved this book especially as I could identify with the perspectives of many of the characters. It was easy to spot the insidious ways that Caroline, a 'helpful friend', was actually causing trouble for the family and I was desperate for her to be revealed as the unpleasant person she actually was.
Flora herself is keeping secrets and it is obvious that the whirlwind nature of their relationship means that she and Ned have a lot of work to do on building their relationship on trust rather than just love.
I enjoyed the interesting juxtaposition between the traditional and the modern, both in terms of work and domestic roles. Negotiating relationships and being honest about expectations are key themes in the book.
This is a fab feel good book, full of hope and love just like Emma's

previous book

. More please!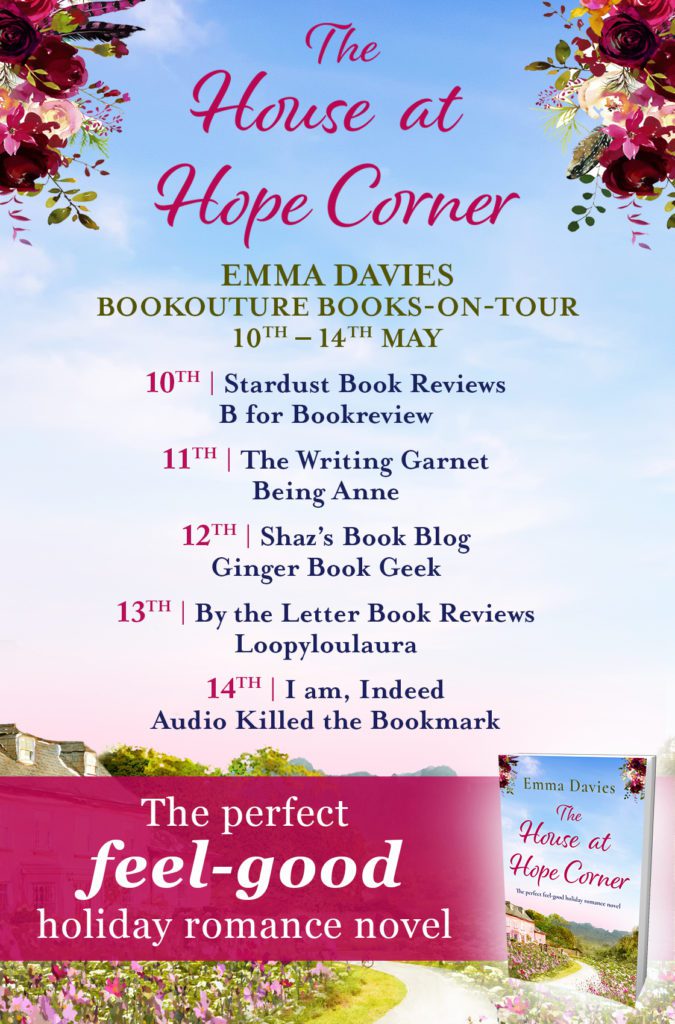 Title:  The House at Hope Corner 
Publication Day: 10/05/2019
Author:   Emma Davies
Buy  Links:      
Description:
The view across the valley takes her breath away; everywhere she looks tiny patches of colour – ochre, chestnut, lime and purple. The farmhouse behind her glows pink in the morning sun. It's like stepping into a postcard, except that this magical place is real. It's her new home.
With her beloved shop in danger of shutting down, meeting Ned, a gorgeous farmer with an irresistible twinkle in his eye, couldn't have come at a better moment for free-spirited florist, Flora Dunbar. But no one is more surprised than her when their whirlwind romance leads to the offer of a new life on Ned's farm.
Arriving at Hope Corner, Flora sets about becoming the perfect farmer's wife, but her creative, alternative thinking falls flat in a household built on tradition and strict routine. Even Ned is becoming more distant by the day…
Pulling up her signature striped socks and throwing herself into her chores, little by little Flora learns to love the order and patterns of life on the land. But the more she learns about her new home, the more she suspects it's under threat, and worse, that Ned is hiding a heartbreaking secret from her.
But this time, Flora's not going to run from her problems. Do Ned and his family trust her enough to let her stay and fight for love and the first house she's ever truly called home? Does she trust herself?
An absolutely gorgeous and utterly uplifting romance to sweep you off your feet! Perfect reading for fans of Jenny Colgan, Lucy Diamond and Debbie Johnson.
  
Author Bio:
After a varied career, Emma Davies once worked for a design studio where she was asked to provide a fun and humorous (and not necessarily true) anecdote for their website. She wrote the following: 'I am a bestselling novelist currently masquerading as a thirty something mother of three.' Well the job in the design studio didn't work out but she's now a forty something mother of three and is happy to report the rest of her dream came true.
After many years as a finance manager she now writes full time, and is far happier playing with words than numbers. She lives with her husband, three children, and two guinea pigs in rural Shropshire where she writes in all the gaps in between real life. It's a county she adores, her love of its beautiful people and landscapes providing endless inspiration for her books, and in fact the only thing that would make Shropshire more idyllic is if it were by the sea.
Author Social Media Links:
Pop over to her website www.emmadaviesauthor.com where, amongst other things, you can read about her passion for Pringles and singing loudly in the car. You can also wave to her on twitter @EmDaviesAuthor /https://twitter.com/EmDaviesAuthor or find her on Facebook (a little too often than is good for her):https://www.facebook.com/emmadaviesauthor/